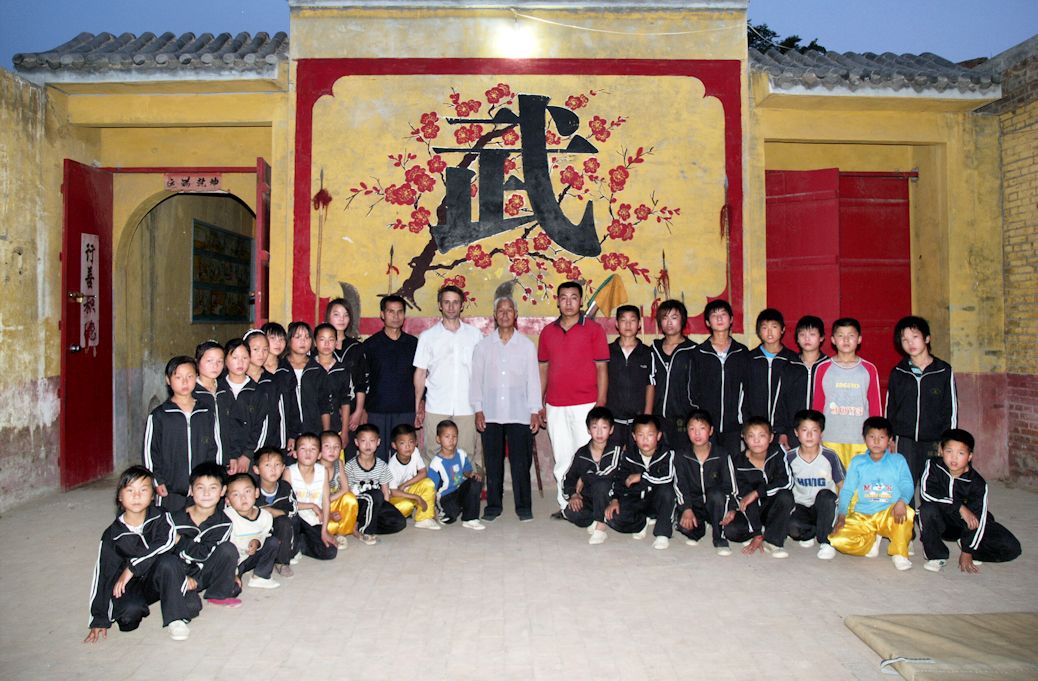 Liaising with NGOs- The Yongnian Meihuaquan Teaching Centre
The establishment of the Meihuaquan Library was established in Minghe village led to a great deal of excitement in the village. For the first time, a non-religious community structure had been built by the a religious community for use by all villagers. The support of the
Within months ….
to be continued
Meihuaquan, a traditional martial art designated a national-level Intangible Cultural Heritage.
The Yongnian Meihuaquan Teaching Centre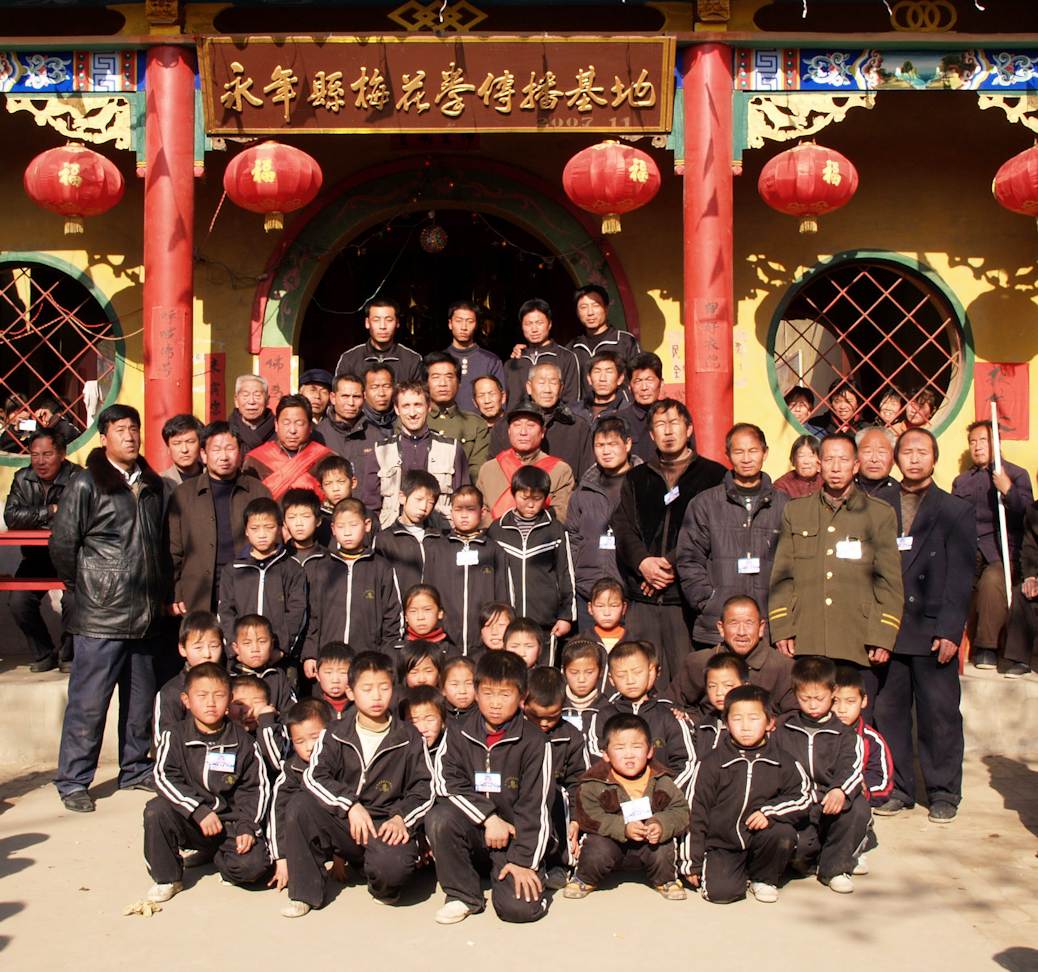 Our projects include:
To promote meihuaquan education, culture and enhance social harmony
To provide an healthy, nuturing educational environment for the next generation
We hope to receive advice and assistance from foreign and domestic NGOs and charitable organizations.
The Meihuaquan Teaching Centre relies on volunteer, non-profit methods for its educational projects and activities.
The goal of the Meihuaquan Teaching Centre is to enrich and revitalize rural society, improve social cohesion and social trust, and contribute to the building of a 'harmonious society'. The Centre is especially concerned with providing a better educational environment for children so that they may develop the skills, abilities and attitudes that will contribute to society. Our goals include: 1. Promoting the traditional martial art of meihuaquan, its beliefs and life philosophy; 2. Helping young people achieve well-rounded mental and physical health. Martial arts training develops discipline, concentration and sharpens student's intellect, which encourages a general interest in learning. To reach our goals, the Centre, in cooperation with the village's elementary school, has established a martial arts school that provides academic education and martial arts training for elementary and junior high school students.  Meihuaquan training  includes a strong moral code that helps nurture in rural youth a deeper sense of responsibility to family, society and the nation; 3. Cooperating with domestic and foreign NGOs to help us improve our rural library and provide training for the Centre's elementary school currently under construction.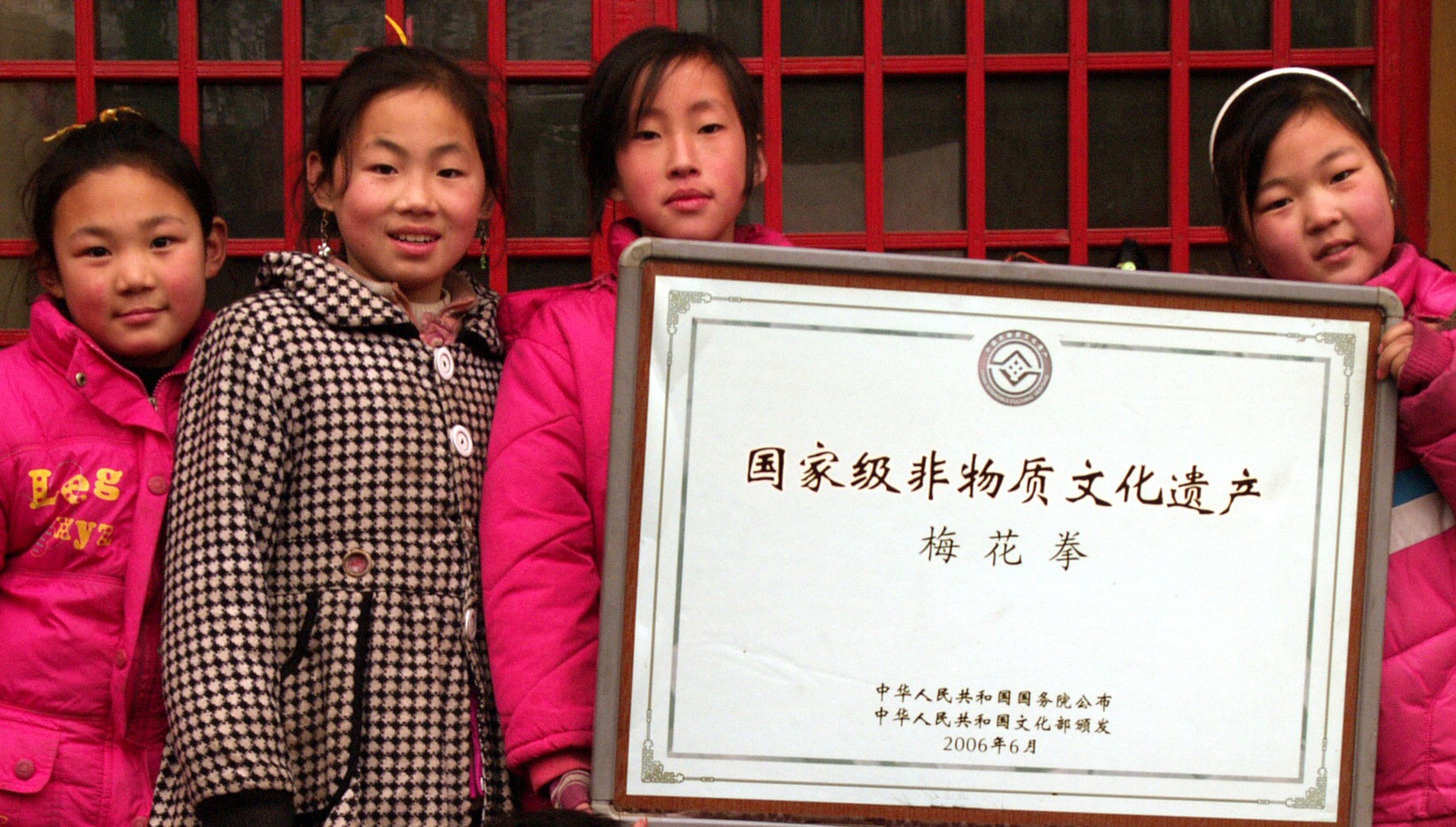 1. Promote traditional culture- the mission of the Meihuaquan Teaching Centre.
Fifteen kilometers from the capital of Yongnian County, lies the village of Minghe. Meihuaquan martial arts training in the village has been a tradition in the village since the early Qing dynasty. After economic reforms increased rural people's standard of living, villagers' interest in meihuaquan and its emphasis on humanistic virtues and morals was rekindled. Owing to the efforts of 14th generation meihuaquan disciple Zhang Gaoyan who serves as the director of the Meihuaquan Teaching Centre's Management Committee, and other supporters involved in the protection and teaching of meihuaquan, this ancient intangible cultural heritage has been preserved. Their tireless, collective efforts over the course of 10 months attracted donations of over 200,000 yuan and with much fanfare, the Meihuaquan Teaching Centre was finally completed in October 2007.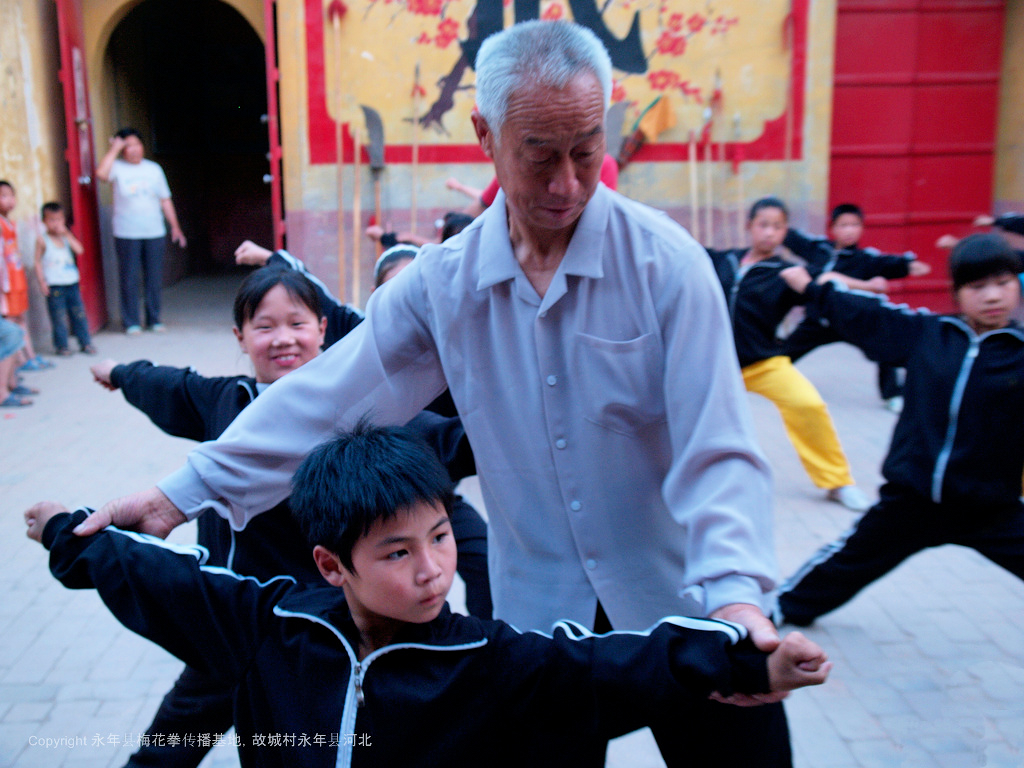 On November 1, 2007, the Meihuaquan Teaching Centre held a grand opening ceremony. County government officials attending the event conferred on the Centre its official name "The Yongnian County Meihuaquan Teaching Centre." This festive occasion was celebrated with performances by traditional opera troupes and martial arts exhibitions by meihuaquan teams from all over the country. The event attracted thousands of martial arts enthusiasts from the surrounding counties. The Centre invited Shandong University professor and meihuaquan grandmaster Yan Zijie, his disciple Raymond Ambrosi, director of the Canadian Meihuaquan Association, and Shandong University folklore professor Zhang Shishan to attend. The event was well received and bolstered interest in meihuaquan both within China and abroad. The three day event encouraged the social cohesion and cooperation, promoted international friendship, and provided youth with enjoyable cultural events that encourage them to become good citizens working for the betterment of society.
2. Opportunities for better education– academic-curriculum martial arts school.
Currently, poor education resources inhibit the development of a lively educational atmosphere in which children can thrive and learn.  Lacking proper education, poorly educated rural children are not well-prepared for the fast pace of modern society. To help address this, the Centre established an academic-curriculum martial arts school for grades two to six to teach standard school subjects, and to improving youth's physical fitness and mental acuity through meihuaquan martial arts training. Instruction in meihuaquan's martial moral code helps nurture children's sense of responsibility to parents, society and the nation.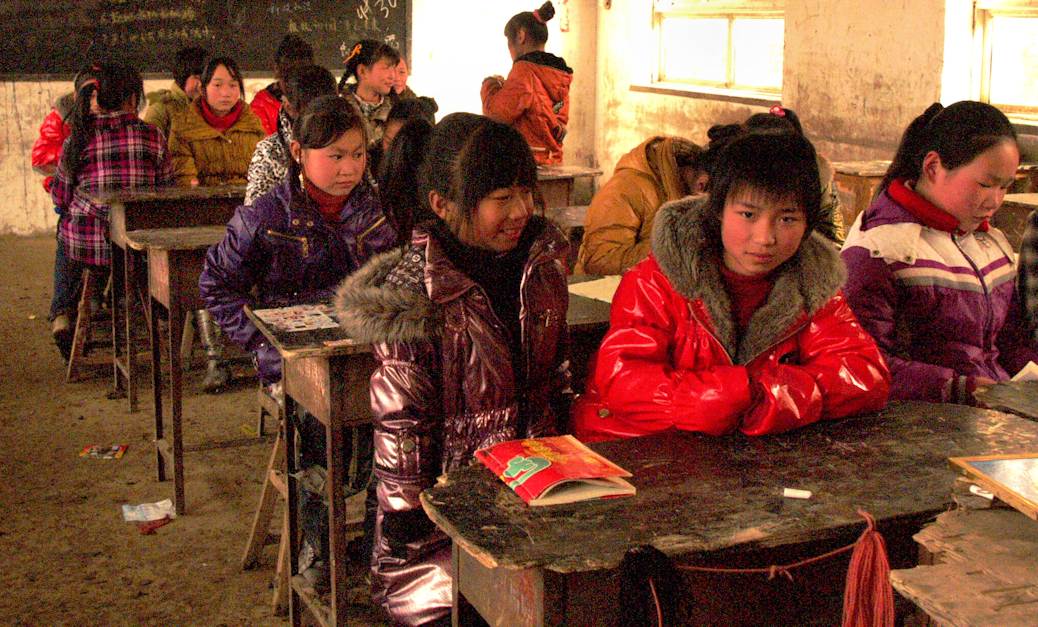 Built in the 1980s, the school, facilities and equipment are in very poor condition. Compounding the problem, teachers' educational resources and skills are poor, and thus students from this school are unable to pass exams to enter Junior High School. In order to address this problem, while simultaneously working with the village school and providing martial arts courses for the students, the Centre is undertaking the construction of its own 2-story elementary school in order to provide vastly improved physical conditions to attract skilled teachers and thereby provide superior educational opportunities for village children.
German TV  visits the Centre's library, open to all children, and well-stocked with books generously provided by the Beijing Xinping Foundation.
3. From martial arts training to social engagement
The Meihuaquan Teaching Centre volunteer efforts in teaching martial arts to village youth has gained not only the support of other villagers, but has earned their deep respect. In turn, the members of the Centre feel a greater responsibility to the community at large to continue their work. As a result, the members of the Centre have become more broadly involved in social affairs.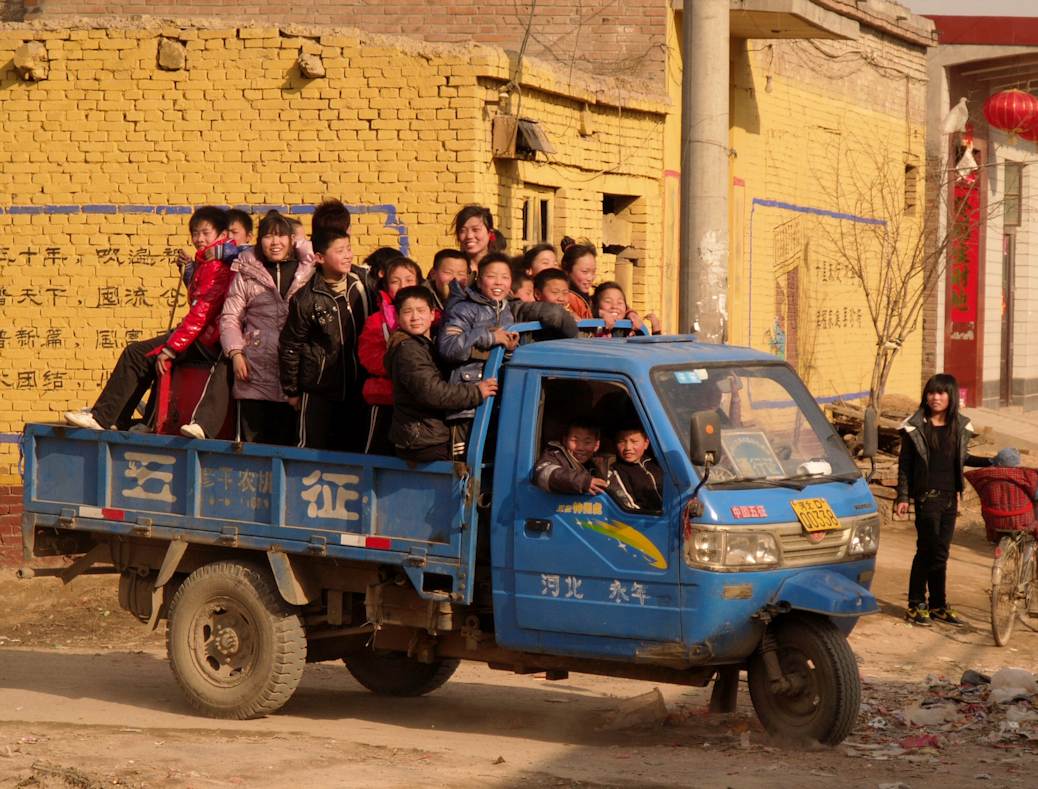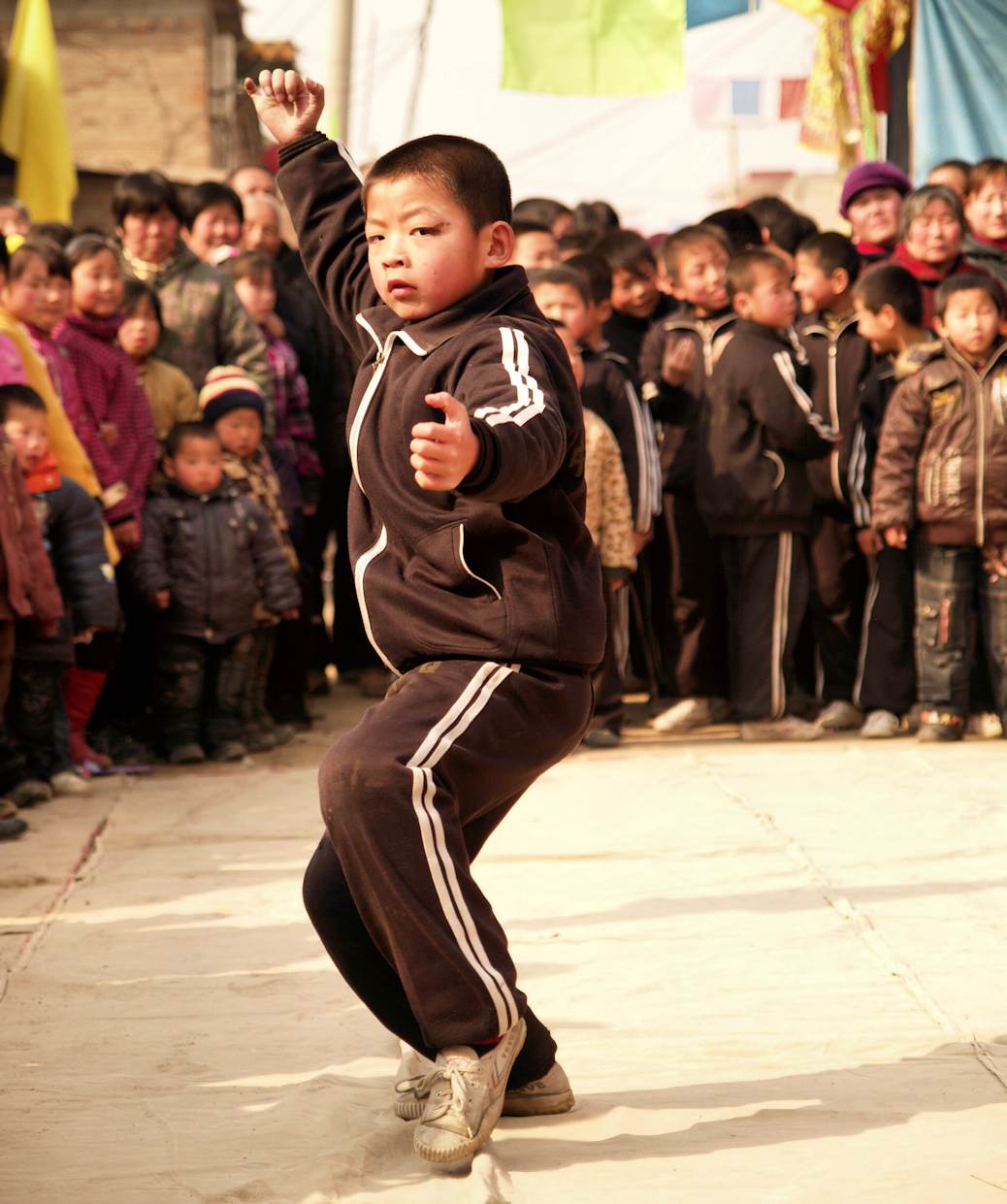 Thanks to the generous support of the Beijing Xinping Foundation's donation of books, the Centre built a rural library that has helped to improve the overall cultural life in the village, and to encourage an engaged attitude towards life-long learning and the pursuit knowledge. Currently, the Meihuaquan Teaching Centre is raising funds for the construction of its own elementary school.
However, because the Centre is a village-based not-for-profit grassroots organization, it needs assistance, advice and training in many areas to help it achieve its goals. As such, we hope to cooperate with foreign and domestic NGOs or charitable organizations. Our plans are ambitious and difficult, but we will persevere in our efforts to provide better learning opportunities for everyone, with a special focus on improving the educational environment for our children.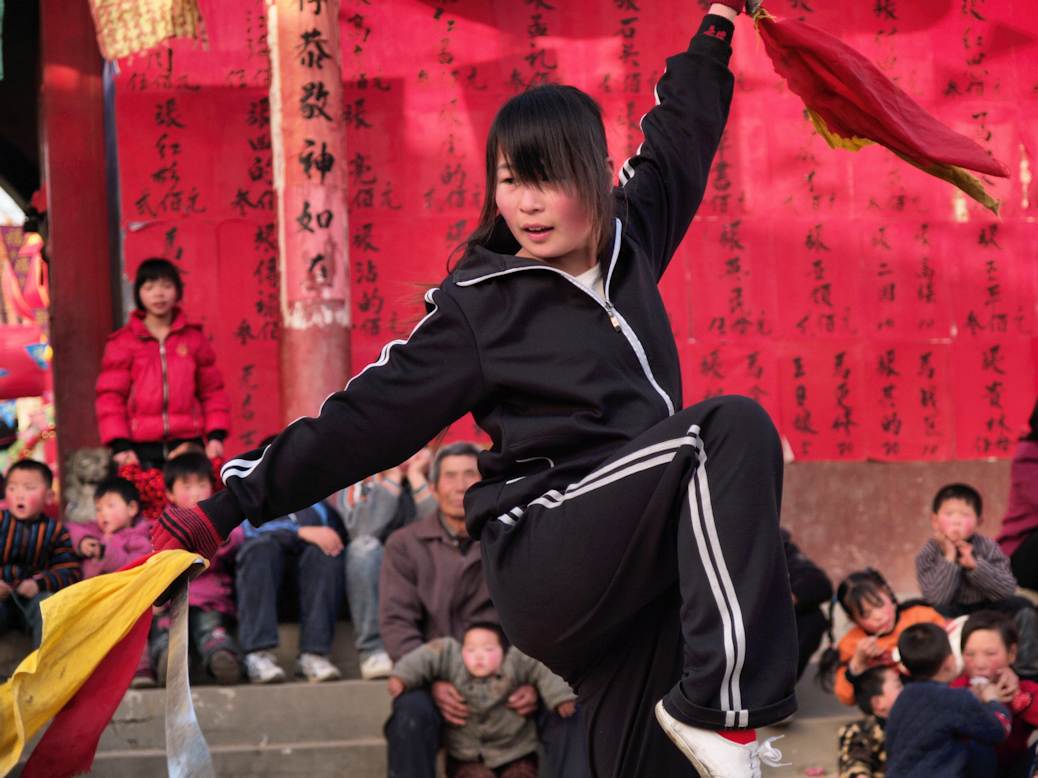 Prior to performances, we often first explain to the crowd that meihuaquan must not ever be considered as a commodity that is for sale, thus we perform for free. We believe that a healthy society requires mutual cooperation and assistance- a goal that each of us must strive for.
Address:河北省邯郸市永年县永年县梅花拳传播基地
Website:www.yn-meihuaquan.org       QQ:1094397363