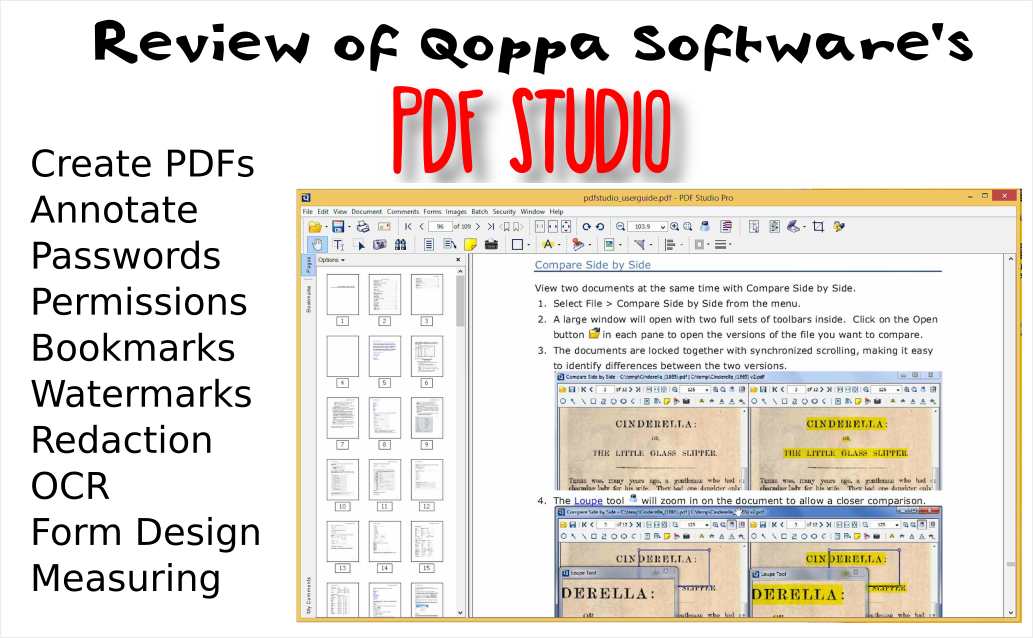 Qoppa Software's PDF Studio
The ability to edit PDF documents is essential for researchers today. Reading, adding bookmarks, notes and adding highlighting to PDF format articles and books is a daily part of my workflow. While a variety of different PDF readers are available for free, PDF software that has the ability to edit PDF documents usually must be purchased.
The PDF format was invented by Adobe and its flagship Acrobat Pro software is outstanding and feature loaded.I use it regularly for a little-known and outstanding feature it offers called "ClearScan" to convert scanned documents into text-searchable PDF documents. Clearscan OCR converts the images that represent text characters on the page into vector outline images.
"g" scanned as bitmap                              "g" scanned as vector image in ClearScan
However, many of us do notn need the powerful scanning capabilities of Adobe Acrobat. Most of the time, I prefer to run far more light-weight, and far less expensive PDF editors made by other software companies.
I began using Qoppa Software's PDF Studio in 2007 when I switched my computer operating system to Linux. While working on my phD in Beijing, I found my computer was regularly being hacked and infected by viruses and malware. China has among the highest rates of malware infection and I was well aware of the sources of infection, but it was still difficult to stop. Many local websites in China contained malware and most Windows computers at copy shops, the library at Peking University were infected. Having to regularly share files with classmates and colleagues led to ongoing problems that virus scanners were unable to catch.
The solution was simple- I switched my operating system to Linux. All virus infection problems ended abruptly. But this led to other complications: I had to find Linux equivalents of the Windows programs that I relied on daily. I found plenty of help and advice online on how to migrate my workflow to Linux.
At that time, Qoppa PDF Studio was the only cross-platform PDF editor that would run on Linux, Windows and Mac. As of 2015, there are now at least two companies sell cross-platform PDF editors including Qoppa and Master PDF Editor. Master PDF Editor is priced at $65.00 CAN and, quite intriguingly, the Linux-based version is free for non-commercial use. This program is comparatively new and might be worth examining. PDF Studio is considerably more expensive at $89 CAN and the professional version is $129 CAN.
After using PDF Studio extensively for several years, I have come to rely on it as my preferred PDF software for reading and editing PDF documents on my computer and Blackberry phone. Why do I like it:
light use of system resources
cross platform design will run on Linux, Windows and Mac
considerably less expensive than Adobe Acrobat and thus represents a good balance between overall cost and performance/features
license allows you to switch among different computers running Windows, Mac and Linux
includes OCR function to convert scanned text documents into readable text
highlighting tool allows user to highlight using different colours
PDF Studio can often open PDF documents that Adobe Acrobat claims are damaged and cannot be opened.
Years ago there were complaints that PDF Studio ran sluggishly, but I have never found this to be an issue and have been consistently satisfied with its responsive performance. Since Version 8 (the latest is version 9), PDF Studio includes OCR that's invaluable for converting scanned text into text-searchable documents. Version 9 includes a "redaction function" that allows the user to remove sensitive or personal information from PDF documents.
PDF Studio is also significantly cheaper than Adobe Acrobat and because its been around now for years, its quite a mature, well thought out product. The company produces portable versions of PDF Studio that run on Android and Blackberry 10 mobile phone OS as well. The Blackberry 10 version works particularly well.