CBC: Regina printer Phil Ambrosi will soon be packing it in
This article was originally published by
CBC Radio
2014 October 06.
The original article can be found at http://www.cbc.ca/news/canada/saskatchewan/regina-printer-phil-ambrosi-will-soon-be-packing-it-in-1.2789273
Regina printer Phil Ambrosi will soon be packing it in
CBC News Posted: Oct 06, 2014 1:40 PM CT Last Updated: Oct 06, 2014 1:40 PM CT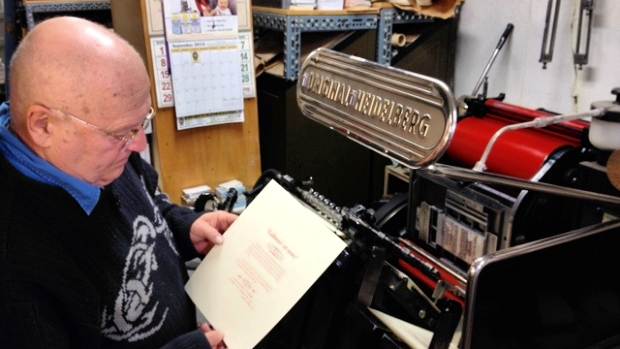 It's the end of an era for Ambrosi Printers in Regina, which opened its doors in 1929 and is closing them for the last time later this year.
It's one of the last print shops in Saskatchewan to solely use the letter-press printing technique.
Owner Phil Ambrosi, 80, who has been working at the print shop for his entire professional life, said the time is right to pack it in.
With technology marching along, the handwriting has been on the wall for letter-press printers for a while, he said.
"The first nail in the coffin was the developing of a really functioning Xerox machine," he said.
"Then the next nail in the coffin, which finished off the job printing business, as far as I'm concerned was the personal computer, where amateurs could set their own type. Well, that was the end of that."
Ambrosi says after working in the business for so many years, it was tough to quit.
"I've just kept on going because I kept on going," he said. "It's the only thing I know how to do. And until now, I've never been able to work up enough courage to simple say: that's it, I'm done."
Ambrosi has already begun his last jobs for customers.

Phil Ambrosi will soon be packing it in
Updated on 2015-06-03T15:30:25-06:00, by Ramb.