This article was originally published by
Heritage Happenings
News from the Heritage Community Association
Regina, SK, Canada
The original article in PDF format can be downloaded at
http://heritagecommunityassociation.com/heritage-happenings-newsletter
Rest in Print, Ambrosi.
By Keir Matthews-Hunter

This month Regina's Heritage neighborhood will bid farewell to one of (if not) the last-standing letterpress printing shops in the city. Ambrosi Printers – located at 1980 Montreal Street – will be closing its doors after 85 years of service and 66 years in Heritage.
The family-run business was established in December 1929 by Michael Ambrosi and was, at that time, found on Broad Street downtown. It was not until 1948 that Michael and his son Phil moved Ambrosi Printers to its present location at Montreal Street.
Today, Phil Ambrosi is the man running the printing presses; however, finding himself tired in a dead industry, Phil feels it is time he now retire his craft.
Of course, with the advent of electronic printing, the market for letterpress printing tumbled throughout the 1960s and '70s. "There aren't many people around that do this sort of thing," Phil says. "With Xerox and PC computers, letterpress printing as a profession quickly died. We moved, we bought the latest machines, and then here all of the sudden everything changed…business cards or whatever you have it could now be printed in a matter of seconds at a fraction of the cost."
As electronic printing grew in popularity, Ambrosi Printers underwent increasingly turbulent times, throughout which the business stayed afloat in two ways: through the sale of customized and hard-to-find metal type to other printers, and in performing jobs for people with both the money and appreciation for hand-cast type printing. Today, clientele for Ambrosi Printers is few and far between, as letterpress printing predominates in an artisanal fashion.
What is not printed on paper, however, is Phil's knowledge and experience of Regina's Heritage neighbourhood. Phil vividly remembers helping his father build the site that now houses his Heidelberg printing machines. At the time of the Second World War, having no interest in school, Phil dropped his textbooks to work with his father. During that 66-year period, from the time he helped his father build the [new] shop until now, Phil has never lived outside a six-block radius of Ambrosi Printers.
What that means is Phil is well versed in Heritage history, having even lived in the neighborhood when it was referred to as "Germantown." Phil is also a father of three and has had the pleasure of raising children in Heritage.
Sadly, Heritage will now be home to one less historic feat and yet one more vacant building. What Heritage will not lose, however, is a community staple; Phil has spent his entire life in Heritage, Core, "Germantown," or whatever name it has been given during his time in the community. Although his business is leaving, his eye for detail and authenticity is here to stay.
Congratulations Ambrosi Printers on 85 years of business!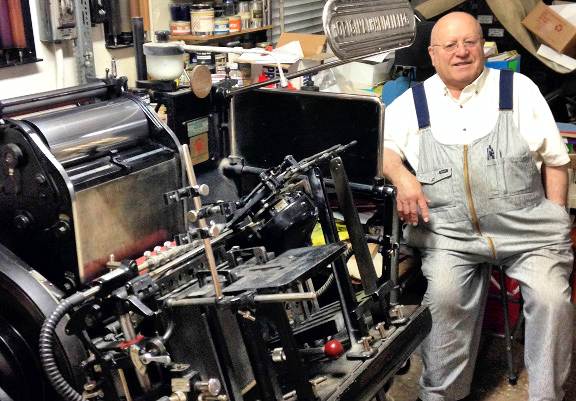 Rest in Print
Updated on 2015-06-03T14:51:28-06:00, by Ramb.