Euraxess Science Slam 2014. Meihuaquan & Community Life 梅花拳与社群的建设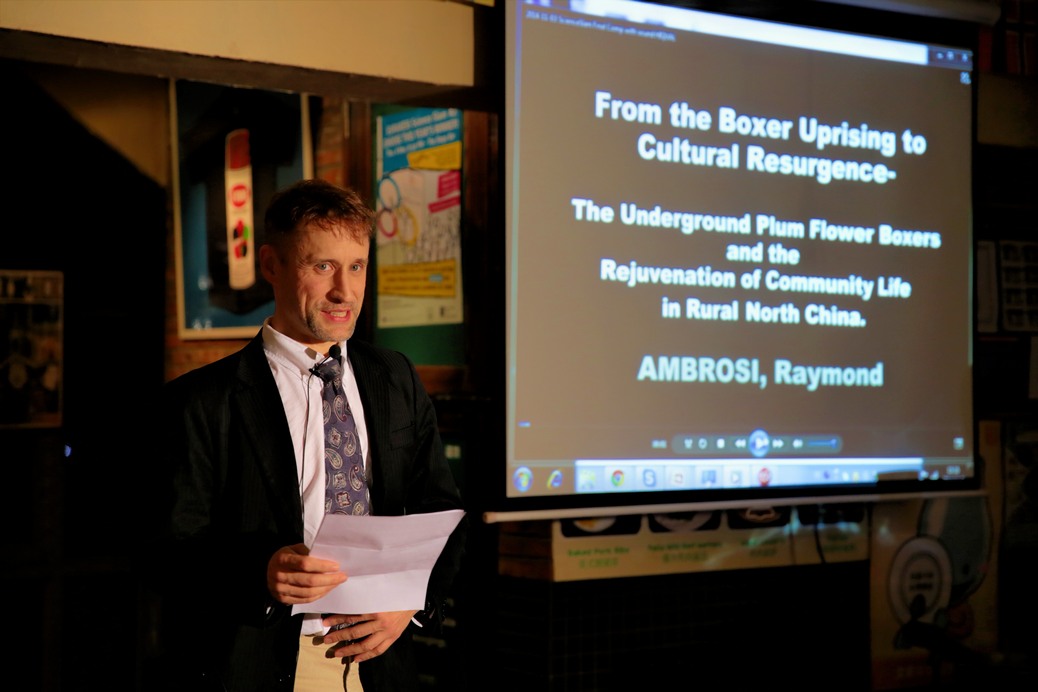 Over the last three years, I attended a nearly all of the lectures and events held by two different organizations in Beijing that encourage academic exchange among Chinese and non-Chinese scholars.  One group "ThinkInChina" presents a monthly lecture by a Chinese scholar on topics ranging from contemporary politics to social issues. The other group EURAXESS is an arm of the European Union that provides information and services to researchers connected to Europe and promotes educational exchange.
I wish I knew of these outstanding organizations earlier in my PhD. Attending their events, I made far more friends and cutting-edge scholars than I did at Peking University.  Events, conferences and meetings held by EURAXESS were very well organized and highly pertinent to anyone doing research in China. On top of that, they were fun, and invariably involved a social gathering well supplied with excellent food and drink. The festive mood was conducive to building friendships with scholars from all over the world.
Earlier in 2014, several of my PhD colleagues suggested I submit an entry to the popular EURAXESS ScienceSlam competition to be held in November. Overly busy with writing papers, editing photos, and searching for work, I didn't give much thought to entering the competition. But in October I received an email reminder from EURAXESS and began working on an entry to the competition. The grand prize, a trip to Europe to attend a training seminar and meet experts on our chosen subject area at famous institutions, made me think this would be an ideal means by which to connect to top scholars, and perhaps land a post-doc that would allow me to continue my work. I have always felt that my research needs to be presented in a way so that it is more accessible and easily understood– after all, it is about the resurgence of indigenous civil society organizations in China which exhibit strong tendencies towards democratic decision making and devolved power-sharing strategies. This is a topic that should be of great interest to a large number of China scholars.
The ScienceSlam competition required competitors to create a video, preferably with the researcher in it.  Because I was ill with an appendicitis attack, and looking rather green, I was not keen on appearing in the video myself and so decided to produce a documentary style video. The short film is based on the hundreds of hours of video and tens of thousands of photos that I shot in rural China between 1992 and 2014 documenting the resurgence of folk martial arts and religious traditions. I'm fairly confident in saying that such a collection exists nowhere else.
Creating My Video Entry
Working within tight timelines, I first created a six minute audio script of the story I wished to tell. While this sound simple, in fact, it was really very time consuming. I first wrote the script, rehearsed it many times, and then recorded it using a high quality audio recorder, an Olympus LS-10, the same trusty recorder that followed me on endless fieldwork adventures since 2008. Because it is difficult to read aloud error-free at a consistent speed, I recorded the script one section at a time and reassembled the audio tracks in Audacity, an open-source audio editor. Once the tracks were assembled, I adjusted the length of silence after the end of each comma and period so that presentation of the audio was consistent and smooth. Once that was finished, I found several good podcasting guides online on how to use various filters and effects in Audacity to improve the timbre and tone of audio narration. Following their instructions, I applied several adjustments, including noise reduction, bass enhancement, and compression to enrich the sound.
Once the soundtrack was done, I imported it into the video editor Corel VideoStudio X7. After finding appropriate video clips and photos, I inserted these into the video editor, and edited the clips to the appropriate length. The result was quite satisfactory and can be viewed in the embedded video below or by this link: https://www.youtube.com/watch?v=R9wmseHCqv8
Euraxess Science Slam 2014. Entry by R.P. Ambrosi.
Title: From the Boxer Uprising to Cultural Resurgence- The Underground Plum Flower Boxers and the Rejuvenation of Community Life in Rural North China.
An introduction to my PhD research on community revival in rural north China and the role played by the folk religious organizations and Meihuaquan Plum Flower Boxers (martial arts).
I submitted the video to EURAXESS and within several days, received the good new that my video entry had been selected as one of the top five finalists.  The announcement is below.
Off to Beijing. Again.
As a finalist, I would have to compete in the ScienceSlam presentations in Beijing. With only one week to spare, there was a mad rush to get obtain a Chinese entrance visa and purchase a plane ticket. The meihuaquan deities must have been smiling upon me as I managed to obtain the Chinese visa with only 1 day to spare, and set off for Beijing on November 4. I arrived on the afternoon of the 5th quite exhausted owing a lack of sleep over the previous weeks during which I was so busy with preparing the short film.
Seeing this presentation as a good opportunity to meet an eclectic group of people who might be quite interested in village efforts to rejuvenate meihuaquan, I asked my friends ZHANG Luzhou and FAN Limei from Yongnian county in Hebei if they would come to the ScienceSlam event. They were very enthusiastic about this idea and after checking with Jacques and Andrea, the organizers of the ScienceSlam event in Beijing, we arranged to have a meihuaquan performance as a special event at the end of the competition.
Organizing a Meihuaquan Demonstration for the ScienceSlam Event.
I was elated that Luzhou and Limei would be present for the event and that we would be able to demonstrate meihuaquan together again, but this time it would be in front of academics in a bar, rather than in front of thousands of villagers. We had been friends for quite some time, and over the last several years, had shared many happy and heartbreaking times together. I met FAN Limei the first time in 1992 at a meihuaquan performance in Daici village, Yongnian county. I had seen him over the years at various meihuaquan events, invariably together with his teacher, the amazing FENG Zhiwen. We became reacquainted in 2008 when I began doing fieldwork in Minghe village where I lived at the home of ZHANG Luzhou.  Between 2008 and 2012, we were together nearly every day talking about meihuaquan history, customs and rituals, and its martial arts and rules of etiquette. They provided me with untold amounts of help during my PhD fieldwork in Yongnian county and had been great friends as well. I wanted them to be present during the ScienceSlam event– the most public exposition of my work to date, and possibly the event that would take me to Europe and bring their village and meihuaquan into the limelight.
During my stay in Beijing, my old friend ZHANG Shengping invited me to stay at the Guanghua School of Management hotel at Peking University. Shengping and I had been friends since 1990 when we met while practicing meihuaquan at Shandong University. Shengping provided me with outstanding help during my PhD studies at Peking University and was always ready to provide helpful advice, feedback and friendship.
The Competition Begins
Luzhou and Limei arrived at the Guanghua hotel at 2pm on the 5th. After a short rest, plenty of good conversation, we set off by bus to the STEPS bar at Wudaokou.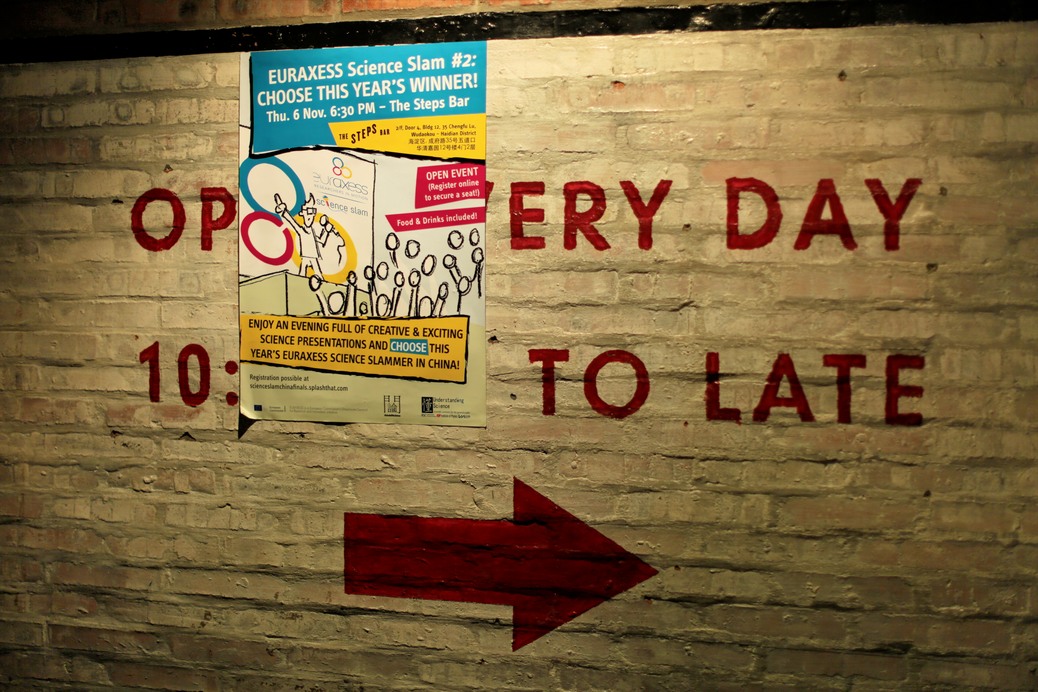 After arriving, I introduced Luzhou and Limei to the EURAXESS organizers and we took a seat to chat and wait for the event to begin at 6:30. By the time the event began, many of my friends in Beijing arrived and we filled a large table. With this amazing show of support, I had no sensation of nervousness- but rather felt the entire situation was a bit surreal. I had left Beijing in September not expecting to be back, yet here I was two months later at Wudaokou where I had spent many days and evenings.
The first speaker, WANG Yanting began her presentation entitled "A Story About Addiction" . Unfortunately the sound system was poor and her voice was barely audible. She had prepared her presentation well and had a rousing group of friends cheering for her.
As the presentations were taking place, the staff at STEPS bar distributed a nice array of food and beer to the audience. No wonder they were noisy with tasty beer and snacks to enjoy!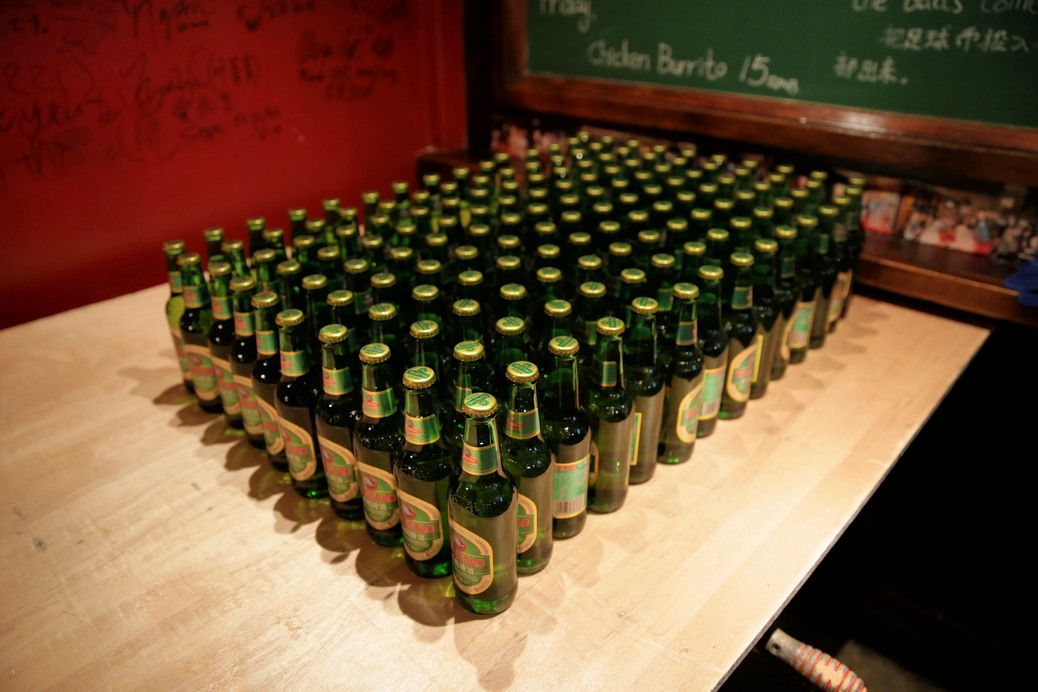 My presentation was second on the roster.  Rather disappointingly, the sound system remained poor during my presentation leading the audience to call out several times to say they could not hear me. This caused me to stop my presentation at least twice to adjust the microphone and broke my concentration. Nevertheless, I felt quite calm in front of the large crowd thinking this seemed easier and less nerve-wracking than speaking in front of thousands of people at meihuaquan gatherings in rural Hebei.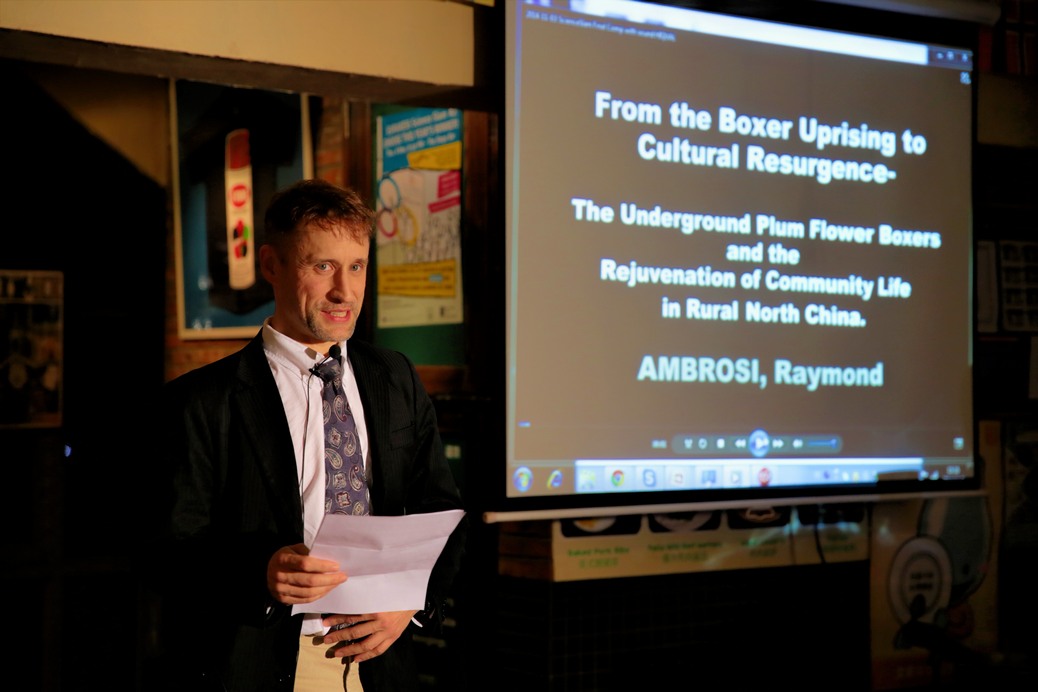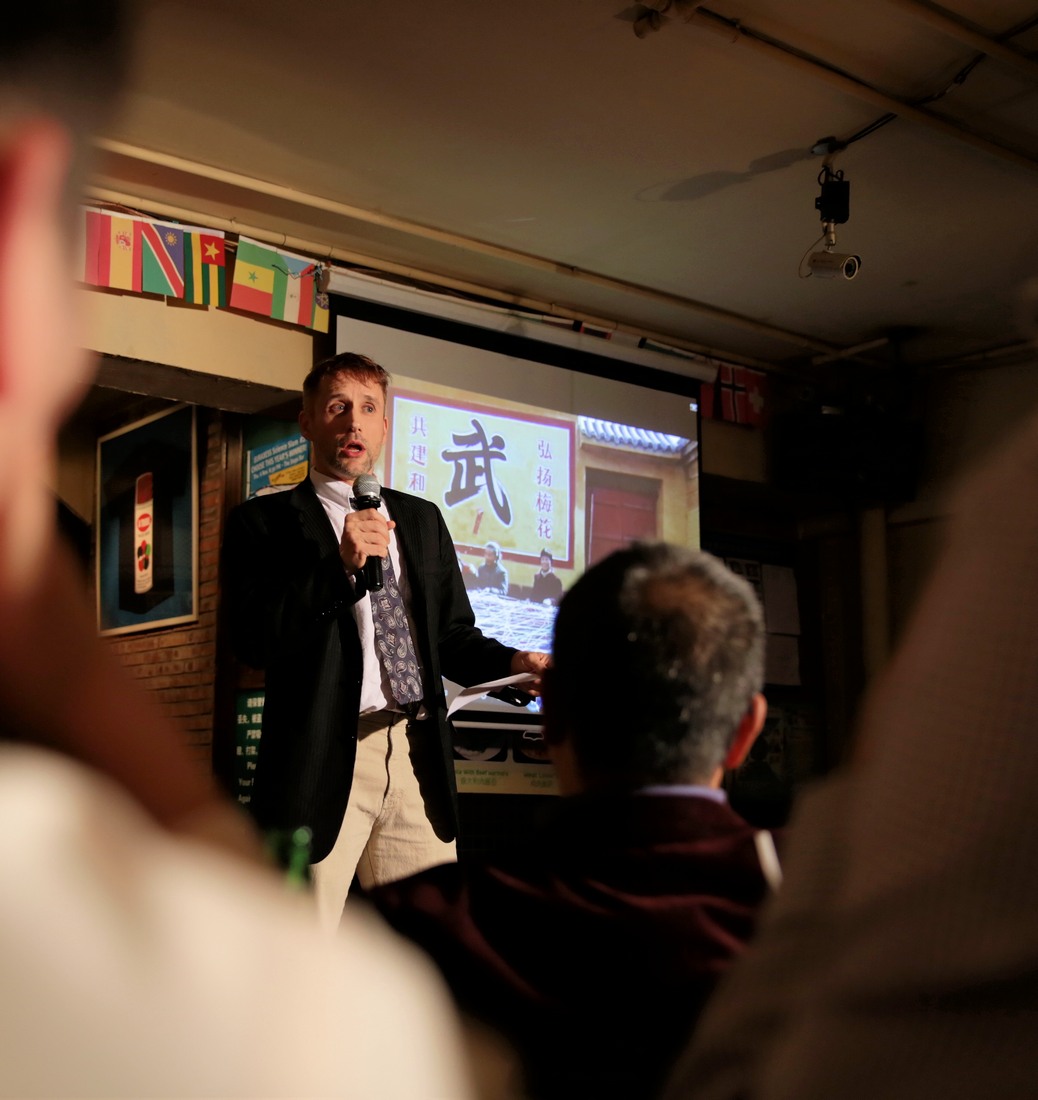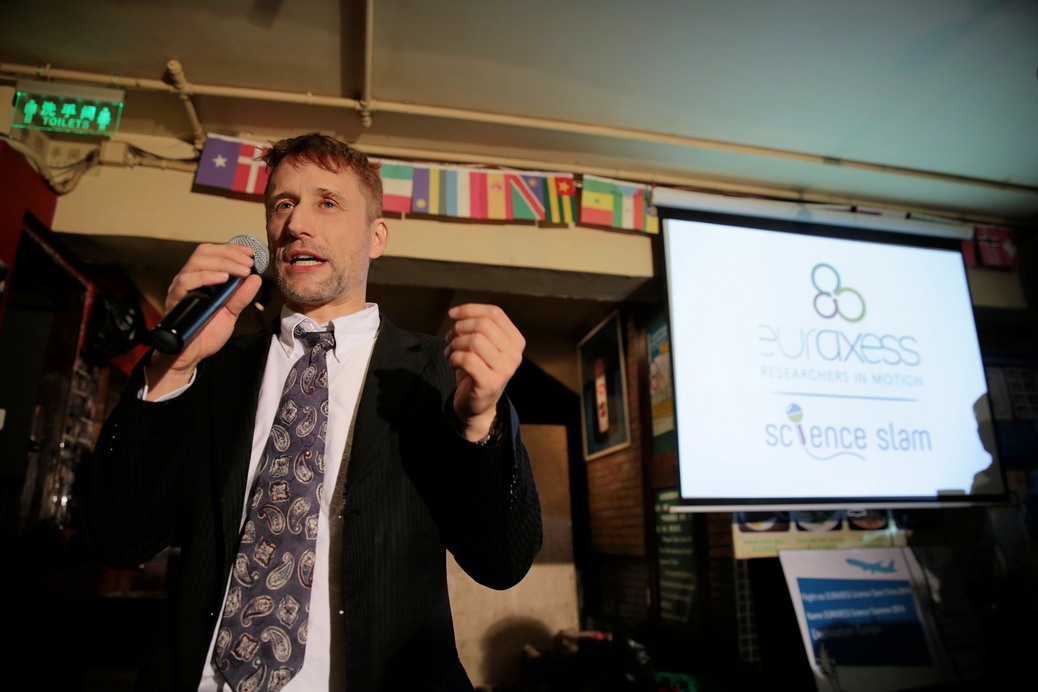 Following my presentation, it seems the sound system was adjusted and the remaining speakers could be heard more clearly above the din of the strangely rambunctious audience. After my presentation, DENG Zhuo presented his research in a humour talk entitled "Who Stole My Electrons".  Next to present was FLORES Nahiely who's talk was called "Numerical Models in Astrophysics". The final talk "Bitcoin, Its Development and Risks" was given by LI Miaoyan.
Throughout the talks, the event MCs had trouble keeping the crowd quiet enough to hear the presenters. I would have expected a crowd of university students at a Science Slam competition to be a little tamer, but it seems they were not the nerdly type at all and their excitement was reflected by the amazing cacophony their raised. But they were a very good natured bunch and the din contributed to the 热闹 "hot and noisy" festive nature of the entire evening.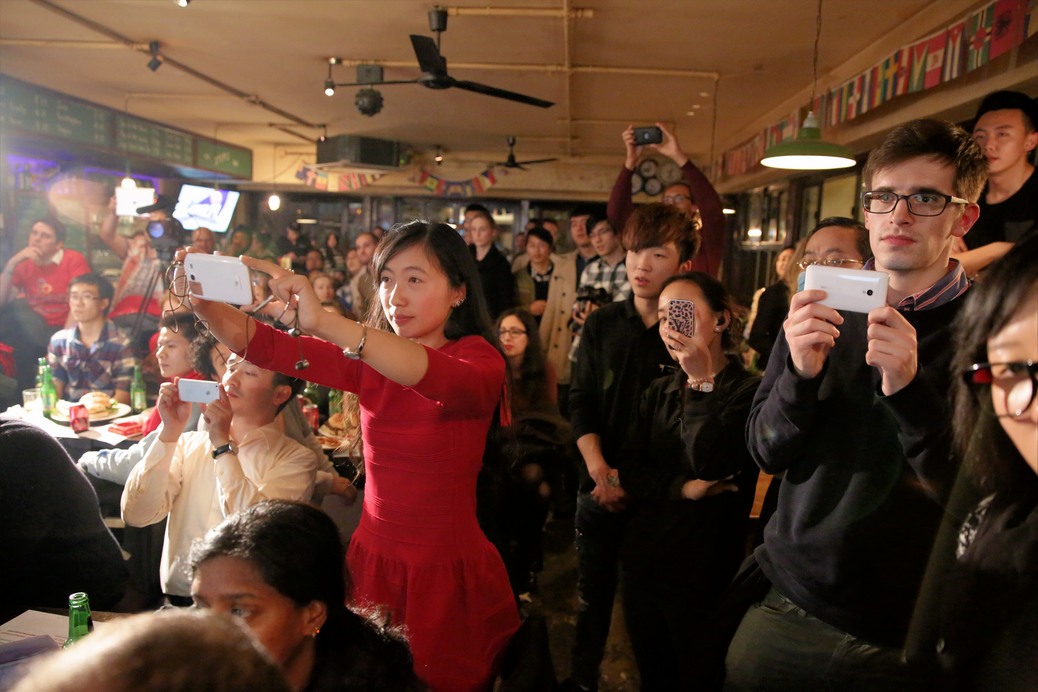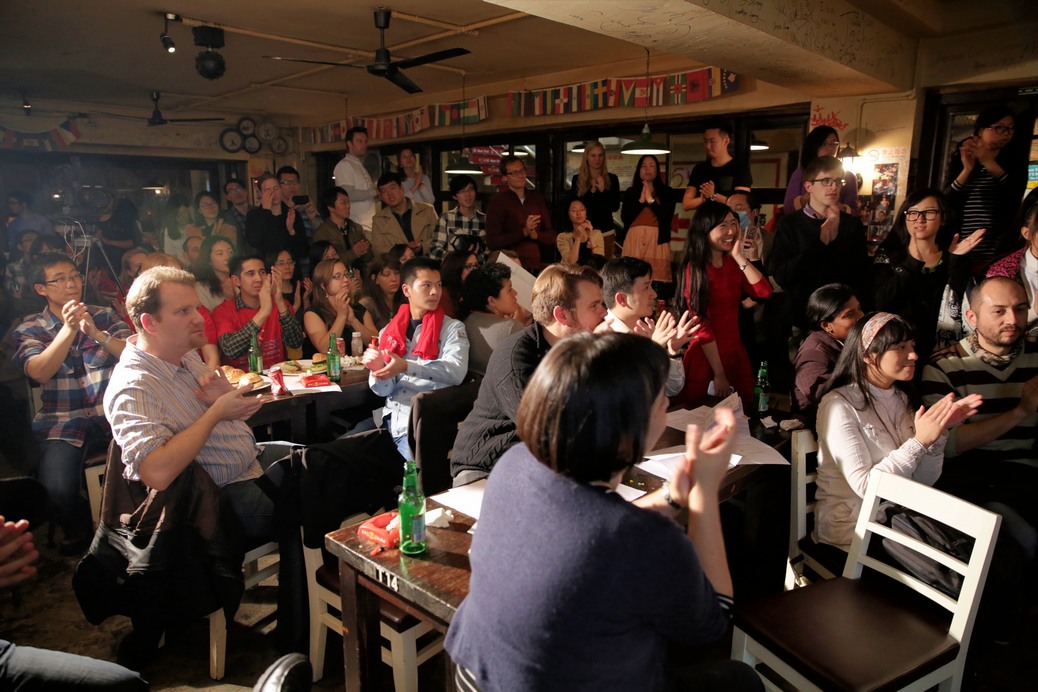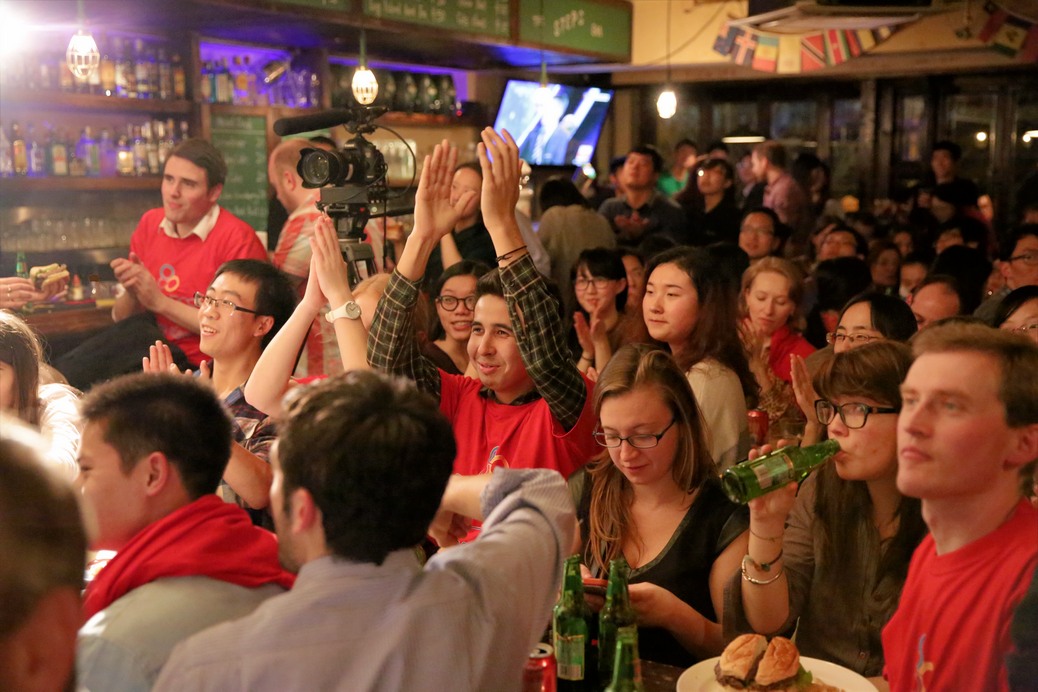 The hosts, Jacques and Andrea, were outstanding hosts and did their utmost to keep things running smoothly!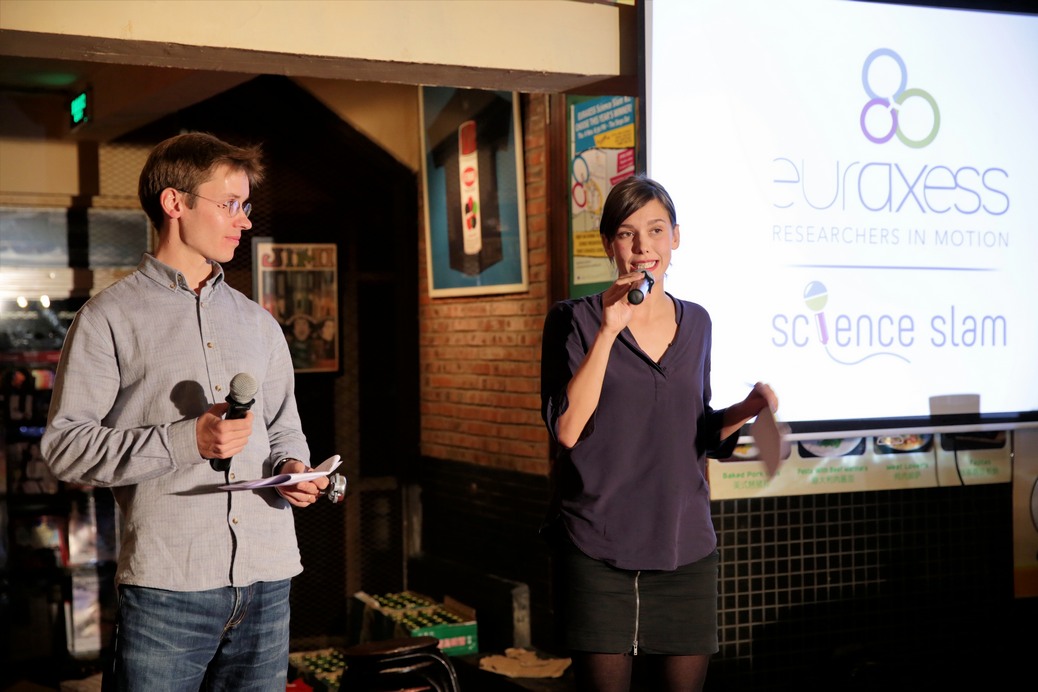 When all of the speakers had completed their presentations, the audience was asked to fill in their evaluation forms and submit them to the front. In the meantime, more food and drink was served.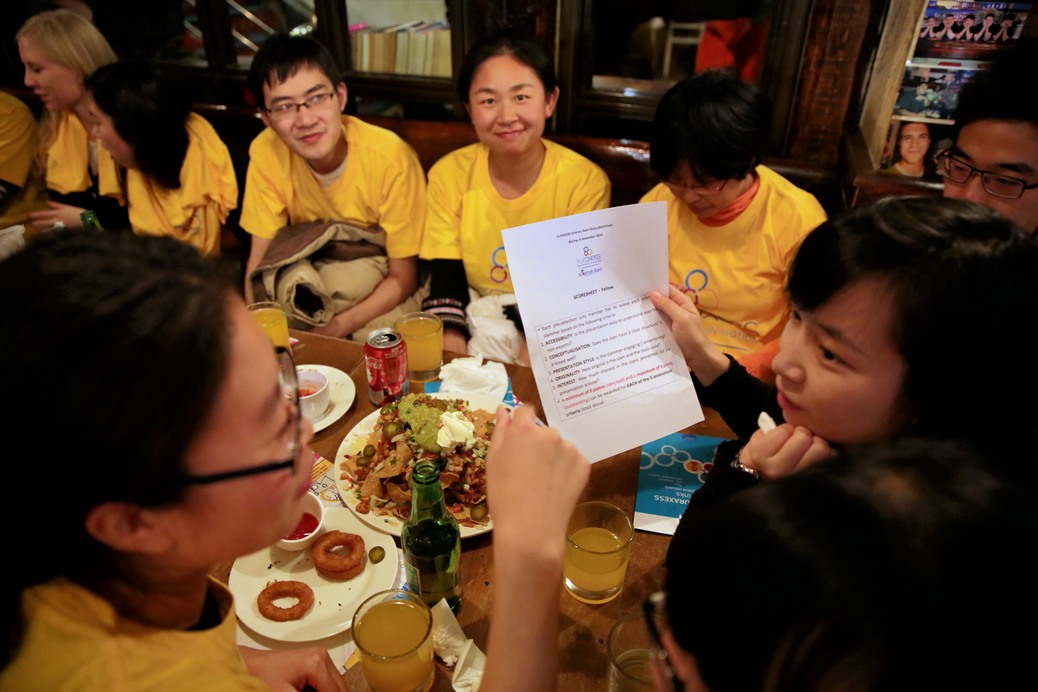 A Winner is Announced
Once the results were in, Andrea and Jacques called for the audience's attention. That was not easy to do as things were quite rambunctious by this time owing to plenty of food and, for some, too much drink. My group of old friends, including Yongzhi, Shiyu, Qian, Miao, Chenchen, as well as a group of meihuaquan practitioners who had seen a posting of the event online, enjoyed meeting one another and the food.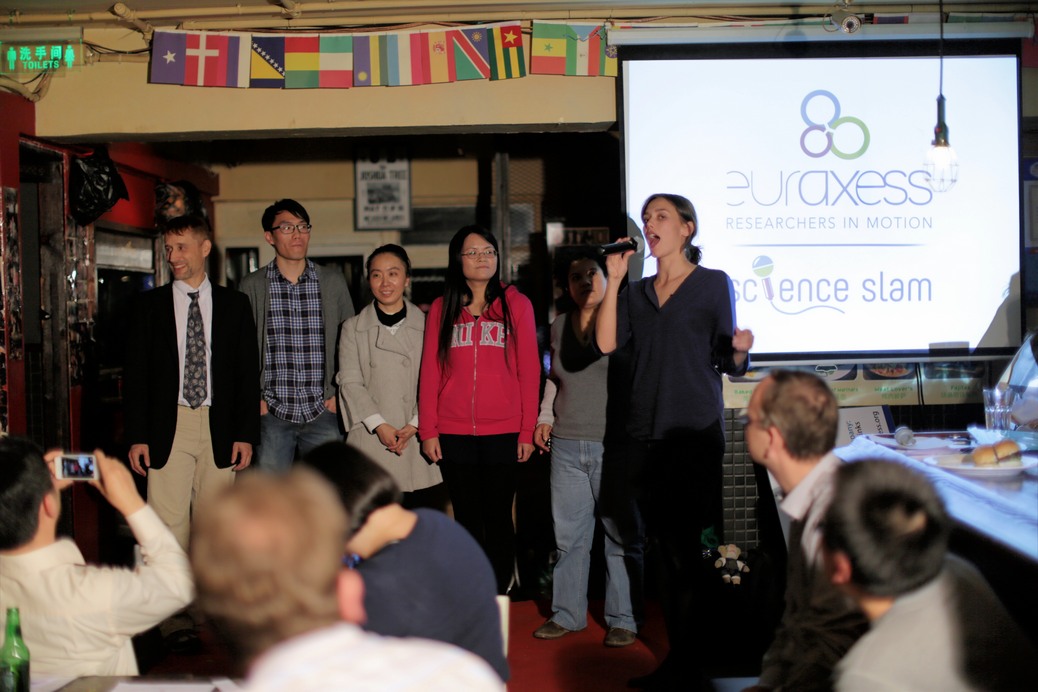 Finally, the moment arrived. The five finalists were brought to the front for the announcement of the winner. Andrea has a dynamic style as host of such events, and excitedly announced WANG Yanting as the grand prize winner. Wang looked pretty excited and her table of supporters sent up a huge round of cheering.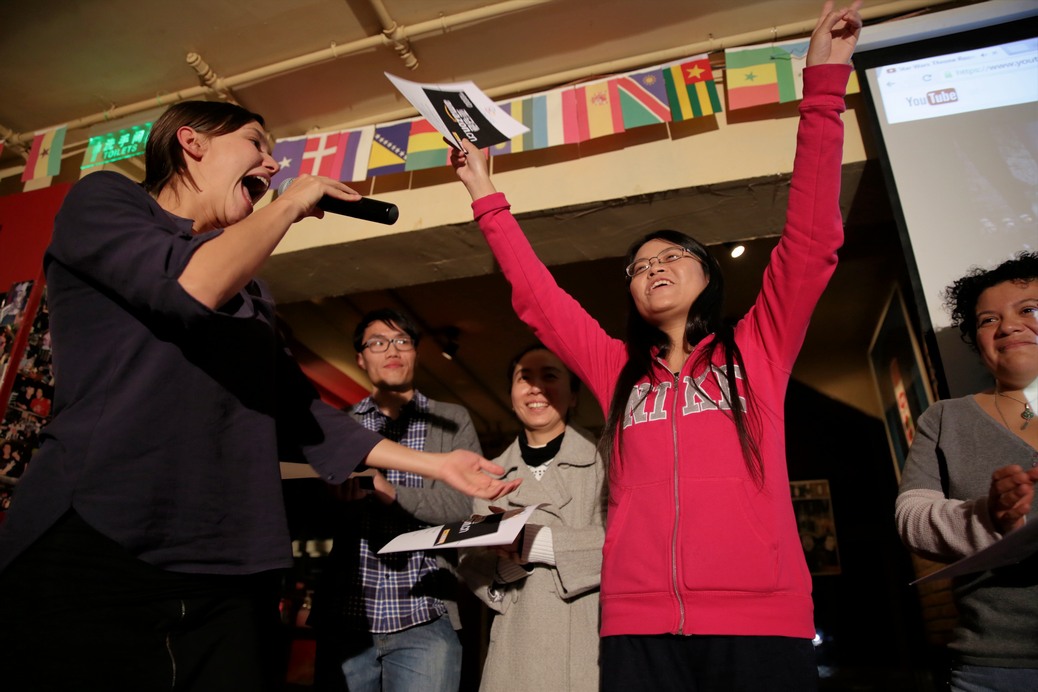 The five of us received gift certificates from Amazon China which was very nice.  Several camera were pointed in our direction nearly constantly throughout the event.  This was our moment of brief fame in Wudaokou!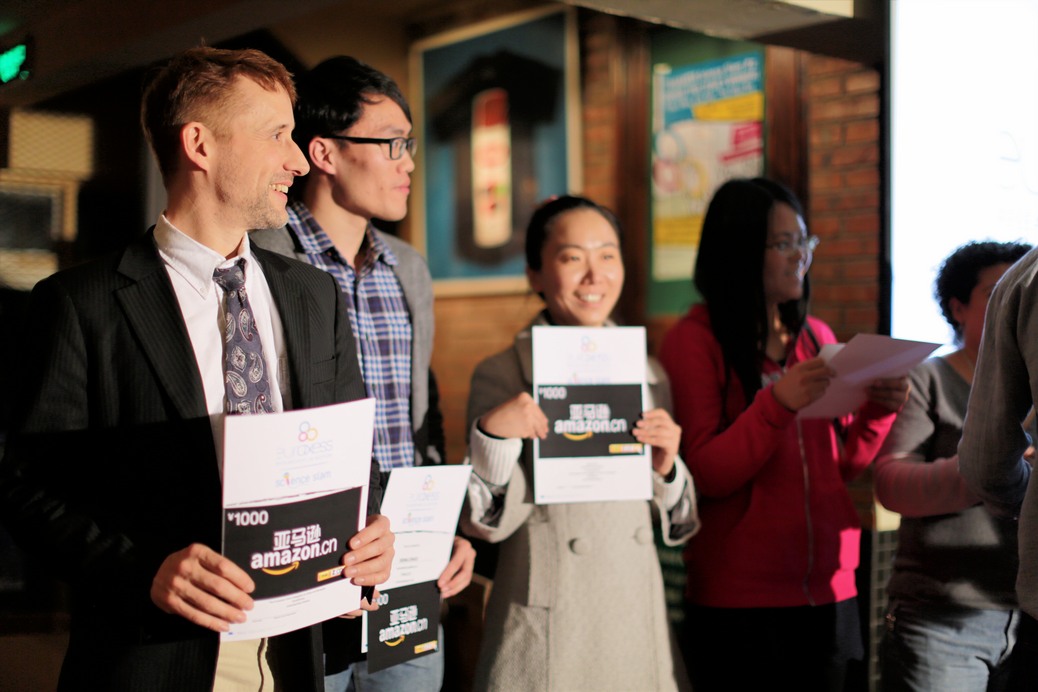 After the commotion died down and we five finalists returned to our seats, Jacques and Andrea announced there was one final special event on the evening's program– a meihuaquan martial arts performance by the team from Yongnian county in Hebei who had come specially for this event.
A Special Final Event on the Program: A Meihuaquan Martial Arts Demonstration
ZHANG Luzhou introduced himself as a representative of the Teaching Center and talked briefly about how the Center was established, and how I had been a frequent resident of the village since 2008.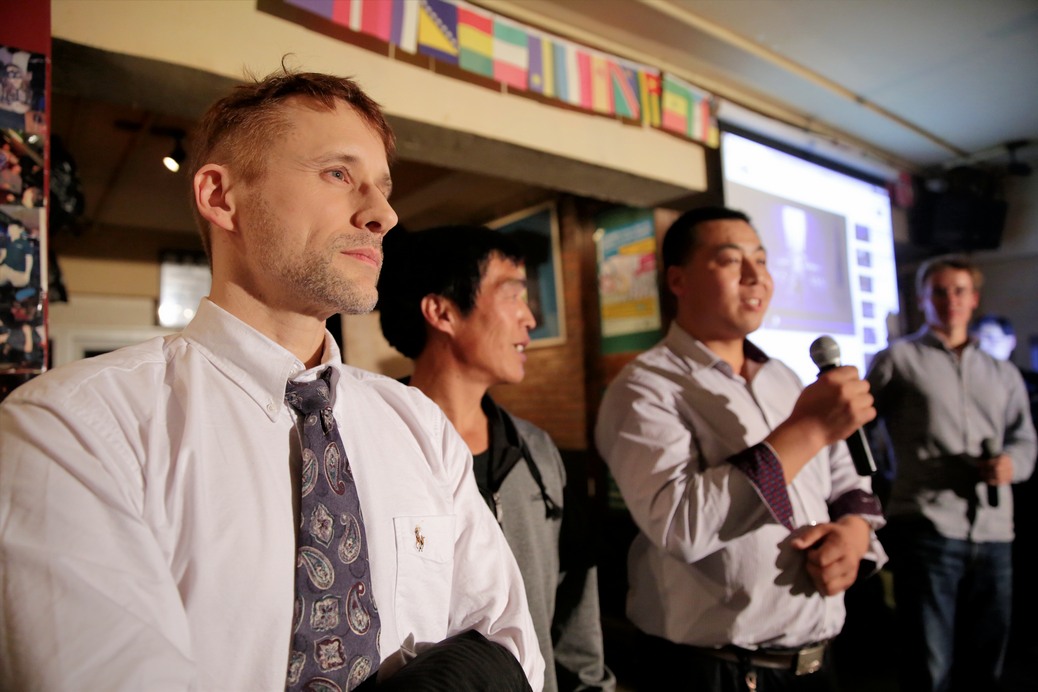 FAN Limei also introduced himself and then did a brief performance of his incredible "hunyuangong". I had seen him perform this many times over the years and have always been deeply impressed. Hunyuangong is neigong (internal) training routines handed down by his teacher's teacher who had an illustrious history as a bodyguard for high ranking government officials in the 1940s.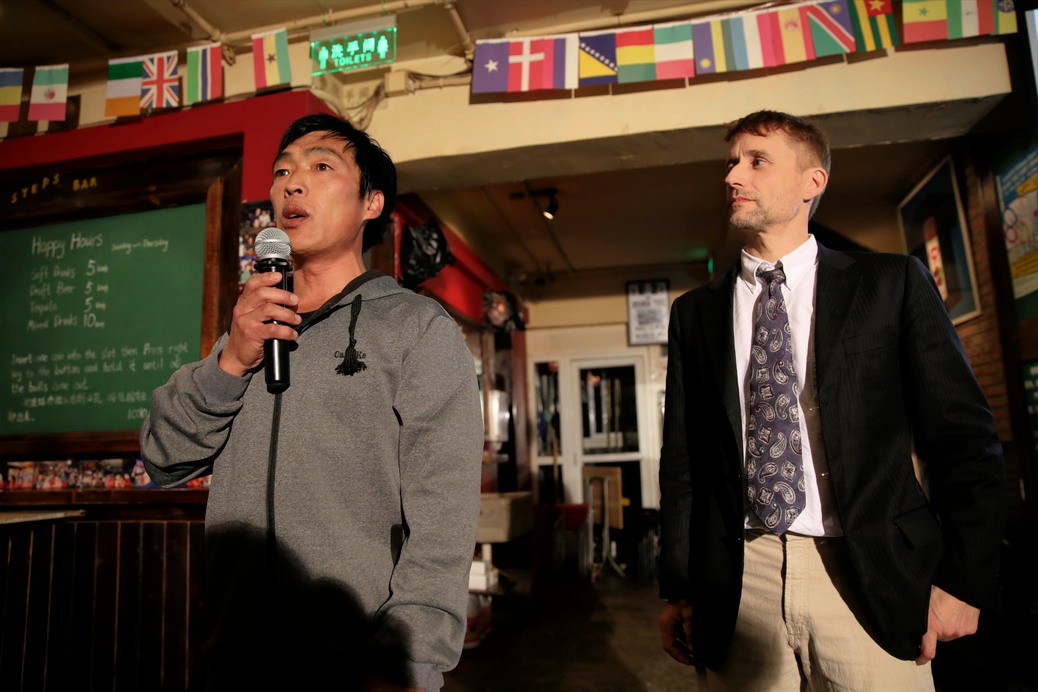 Then it was my turn. I explained briefly that the men had come from Yongnian and had been involved in teaching meihuaquan for years and how this, in fact, was demonstrative of the rejuvenation of community in rural Hebei. I noted that Fan's performance was highly unusual and rare and that its straightforward and non-flashy nature was very much representative of folk martial arts training methods.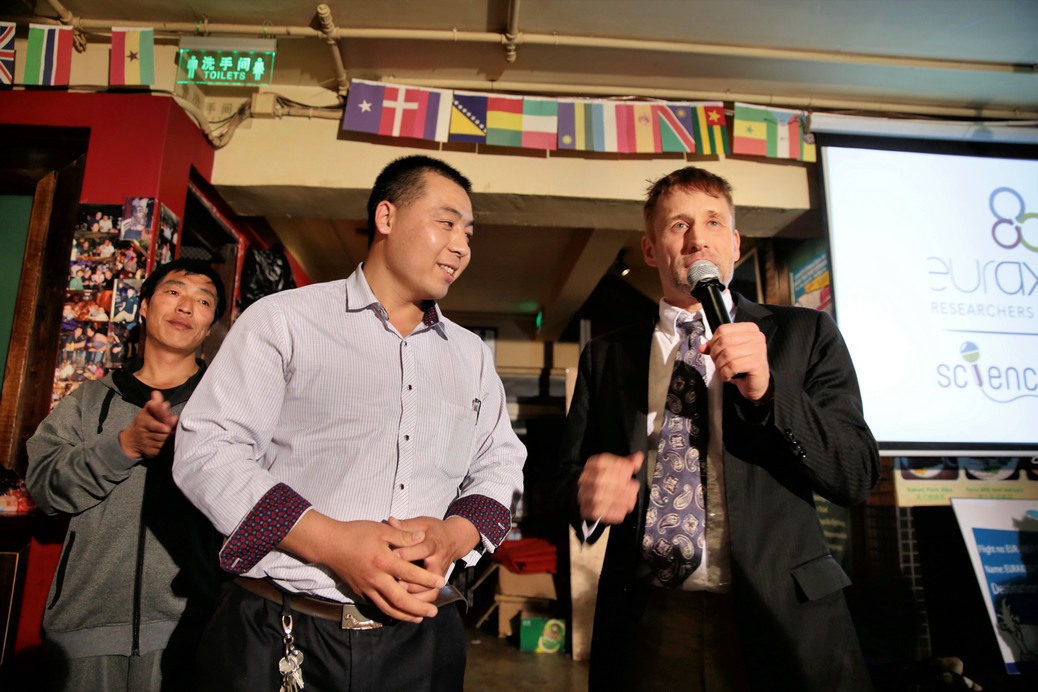 Then it was my turn to demonstrate. I performed a the Five Stance Prelude to the meihuaquan jiazi framework. Mindful of time constraints and worried the audience might find it boring, I kept the demo short.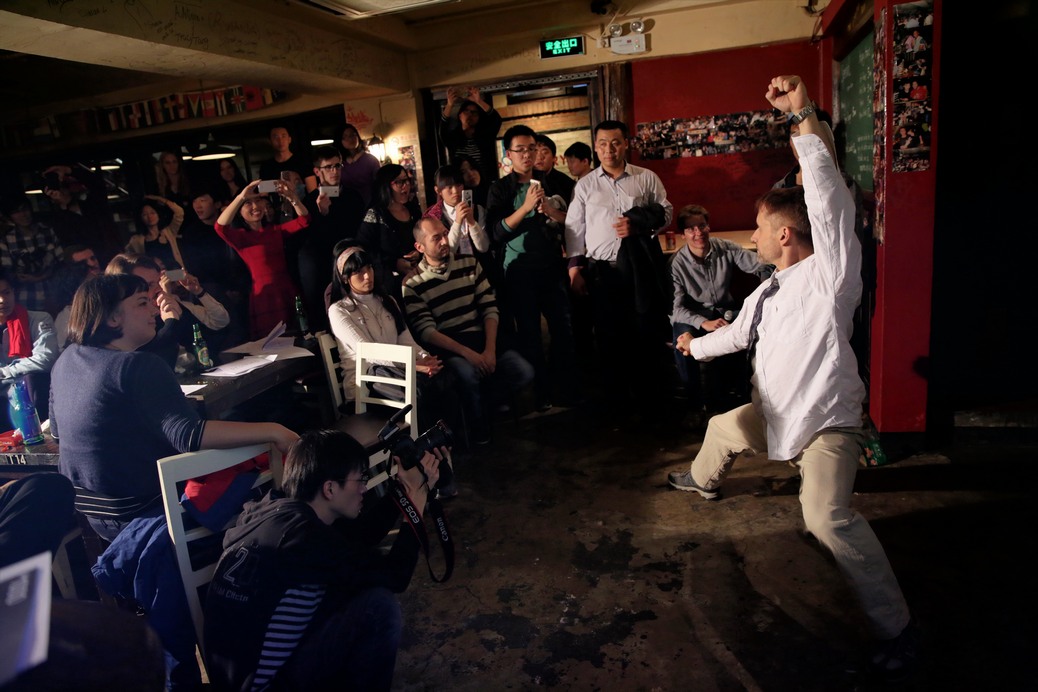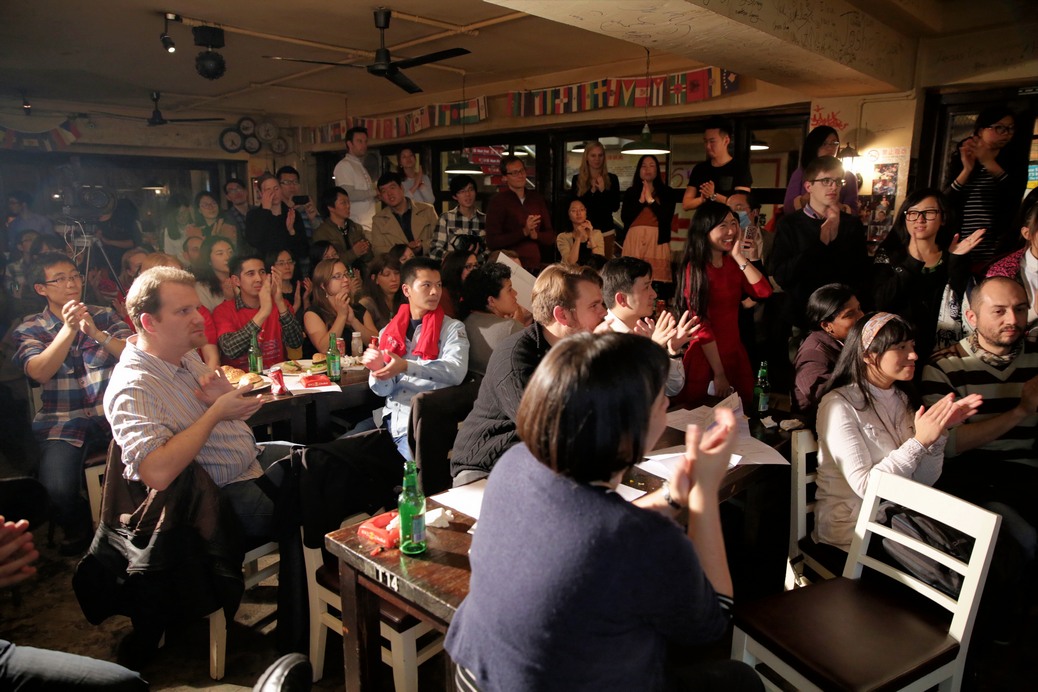 Completing the short demo, the three of us spoke briefly again, Luzhou thanked everyone for their attention and welcomed them to visit the Meihuaquan Teaching Center in his village.

Shortly thereafter, the Science Slam 2014 began to wrap up. The audience began packing up belongings and milled about for some time chatting with friends and contestants. Several members of the audience came forward to talk to me about my research and their interests as well. Overall, it was an outstanding opportunity for exchanging ideas and becoming familiar with the work of other researchers. And it allowed the chance especially for  making new wonderful friends.

EURAXESS published an article announcing the winner of the event along with a collection of photos taken that evening.  The text is reproduced below:

Our five finalists were all fantastic and full of originality. In the end, Wang Yanting from Peking University won the audience over and will go to Europe for a scientific tour!
Thanks to all the brilliant finalists, enthusiastic public, swirling waiters and waitresses, cool sound keepers, authentic kung fu masters and distinguished jury members for a memorable evening!
First pictures attached, more to come soon!

The link to the article is here: http://ec.europa.eu/euraxess/index.cfm/links/singleNews/47692

[END.  by R.P. Ambrosi November 2014]