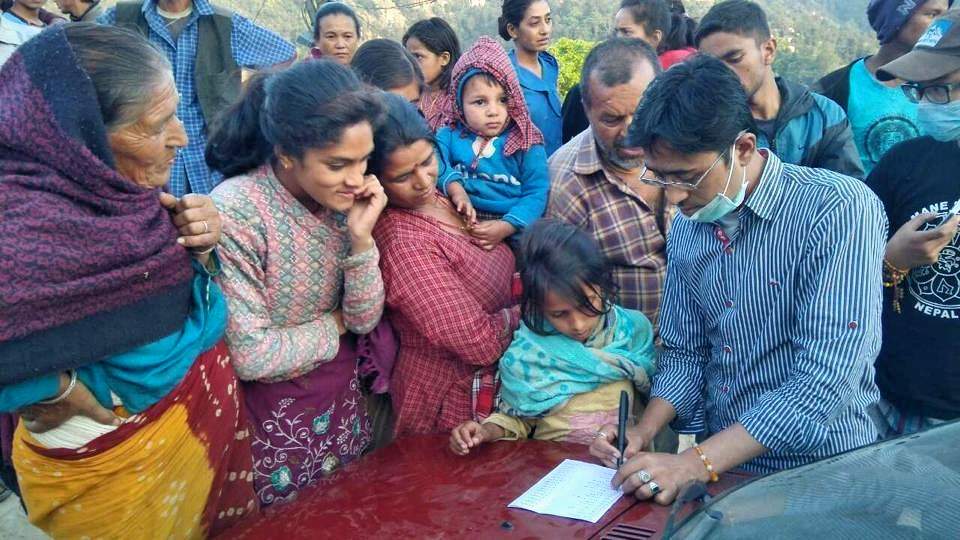 NATHM Student's Earthquake Relief
In 2011 and 2014, I spent several weeks in Nepal hiking, studying meditation, and traveling. During that time, I developed strong friendships with Nepalese people that I met during those trips. Although Nepal is one of the least developed countries in the world (http://www.ruralpovertyportal.org/country/home/tags/nepal), other tourists friends and I found that Nepalese are among the kindest, most generous, and reverent people we have ever met. The warmth of the people is matched by magnificent natural landscapes and by an enduring historical built environment that connects the distant past with modernity.
As you have seen in the news, Nepal suffered a 7.8 magnitude earthquake followed by numerous strong aftershocks on April 25, 2015. This disaster, the worst earthquake in eight decades, has led to thousands of deaths and injuries and badly damaged infrastructure and historical structures that are so critical for the country's tourism industry. This disaster places many poor people in an even more precarious position.
From the messages we received from Nepalese friends who are engaged in relief work, communities are in urgent need of tents, food, clean water, and sources of electric power. One such citizen's relief group is the "NATHM College Student's Earthquake Relief Aid (NCSERA)" a small group of students, eclectic rockers, and Chinese international students who are working to deliver supplies and help to people in remote communities.
Below is a brief introduction to this group.
NATHM College Student's Earthquake Relief Aid (NCSERA) (pronounced n-sera)
Our relief team is comprised of students from NATHM College, international students, and various supporters. Together we are working to assist with relief efforts in Nepal. Because government aid and the efforts of large NGOs cannot reach everyone in need, small citizens' groups like ours have sprung up across Nepal to provide relief directly to remote villages and assist people who have not yet received aid.
Our Facebook page is here: https://www.facebook.com/pages/Nathm-college-earthquake-relief-aid/1052832688079929?fref=ts
Our college is the Nepal Academy of Tourism & Hotel Management (NATHM). It was established in 1972 by the Government of Nepal with the technical assistance of UNDP/ILO to provide training for the Hospitality and Tourism industry. The College's website is here: http://www.nathm.edu.np/
Roshan Tako
Roshan Tako serves as spokesperson for the NCSERA relief group. He began a Bachelor's degree in hotel management in the autumn of 2014, but his studies were interrupted by the earthquake. He served as a volunteer for the Kathmandu Vipassina meditation center for the past 3 years during which time he became acutely aware of the necessity to serve community through volunteerism.
Our team NCSERA currently has 7 members comprised of 4 Nepalese and 3 Chinese international students. We receive no government funding and do all of our own fundraising to pay for supplies. Needless to say we take no salary and all monies go directly to relief work.
Our team works closely with the popular local band Ashesh and Nekhvam (http://www.nekhvam.com/  https://www.facebook.com/AsheshandNekhvam). Ashesh and Nekhvam's popularity in Kathmandu provides them with the broad social network needed to procure necessary supplies and reach communities in need. Funds needed for relief work are provided by the sale of the band's CDs.
Our Nathm College Student's Earthquake Relief Aid (NCSERA) is supported by the efforts of Dr. Raymond Ambrosi in Canada and Tiange (Christina) ZHANG in the USA who are working to procure donations of equipment.
Team Members:
Roshan Tako
https://www.facebook.com/roshantako
Ashesh Dangol
https://www.facebook.com/asheshdangol2?ref=br_rs
Nekhvam
https://www.facebook.com/nekhvamstudio
http://www.nekhvam.com/
Supporters:
Dr. Raymond Ambrosi
Email: rayambrosi@gmail.com
Telephone: 306-522-9793
http://www.ambrosi.ca
Tiange (Christina) ZHANG
Email: Chrisztg@udel.edu  or Christinazhang5@gmail.com or 472812837@qq.com
Telephone: 1-302-268-4967 (Before May)
University of Delaware
Dept. of  College of Arts & Sciences
All donations of money and equipment will go directly to people in dire need. On behalf of our team, thank you for your support.
---
The efforts of NATHM College Student's Earthquake Relief Aid (NCSERA) are admirable and worthy of support. While large NGOs are playing an important role in relief effort, small citizens groups like these fill in the gaps and can reach places on foot, by bicycle or motorcycle that have been overlooked or are not easily reached. Over the last several days, I wrote to numerous corporations to solicit donations of water purification equipment and solar electric charging systems. I hope that some of these companies will be able to make contributions to help the people of Nepal. I may include a list of corporate donations here if the companies are interested.