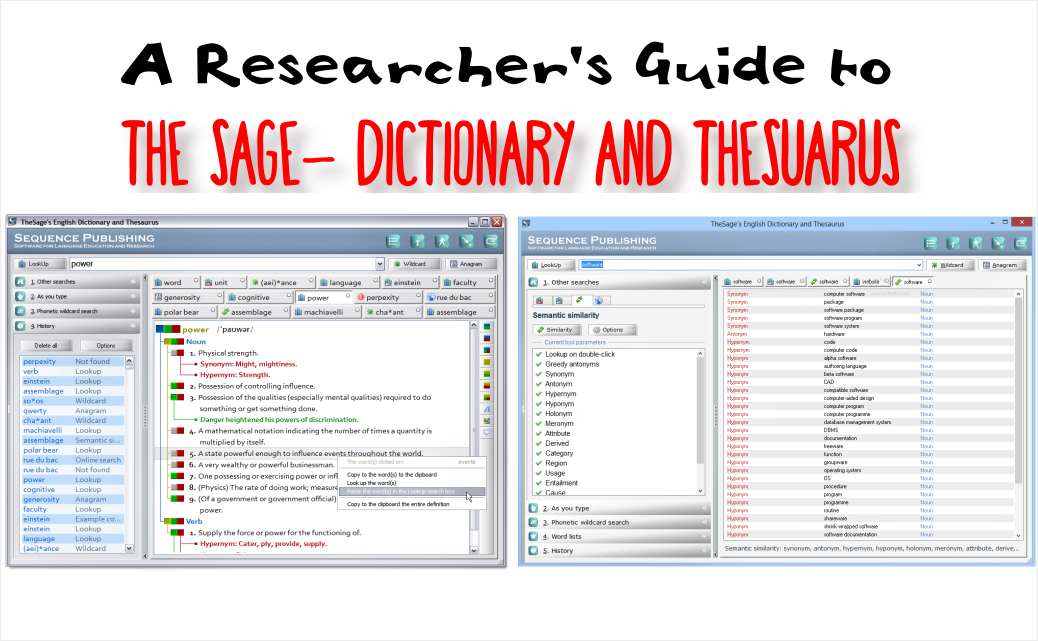 TheSage English Dictionary and Thesaurus
TheSage

TheSage is a cross-referenced dictionary and thesaurus that allows users to see the relationships among words and provides an impressive range of examples showing how words are used. This tool has been around since at least 2006, and has received a large number of awards. During the last several years, TheSage is one of the applications that I use daily, and regularly recommend to others.
Sequence Publishing, the developer of TheSage, describes it as a "knowledge database and a multi-tool interface" that includes:
Dictionary- a comprehensive dictionary with examples, and basic encyclopedia functions
Thesaurus- synonyms, antonyms, hypernyms, hyponyms, meronyms, holonyms
Various Tools- various look-up tools including a very useful one that allows the user to look up words when you can't remember the exact spelling.
Benefits
Despite its large fan-following, TheSage, by Sequence Publishing does not seem to be a widely known tool among university students or researchers. And that is a shame because TheSage is a remarkably useful tool for just about anyone who must read and write in the English language. For years I've recommended it to ESL and university students, to research colleagues and to just about anyone who spends a great deal of their time reading. Even as a native speaker of English, I still regularly encounter enigmatic words like approbatory, inimical, leitmotif, malfeasance, and quotidain that I am unfamiliar with. Unfamiliar to you too? Then we can certainly benefit from installing TheSage on our computers and using it on a daily basis.
When writing, I occasionally encounter "writers block" especially when seeking to express a concept or idea in more literary fashion. Undoubtedly I've been influence by the diminished colloquial vocabulary in use in North America today. The dumbing-down of English communication especially in North America has intensified through commercial mass media– a trend well documented by cultural theorists. The negative effect on writing ability is apparent everywhere, and is especially apparent to anyone who has graded university course essays written by native speakers. For solace and help, I turn to dictionaries and thesauri. Searching for a particular word in TheSage quickly reveals a wide range of definitions, synonyms, homonyms, antonyms that can help us avoid repetition of the same term, phrase or idea.
Installation and Use

TheSage English Dictionary is a program that is installed on your computer and runs locally. It is not "cloud based" and thus does not require an active internet connection. For me, this is an important benefit of using TheSage.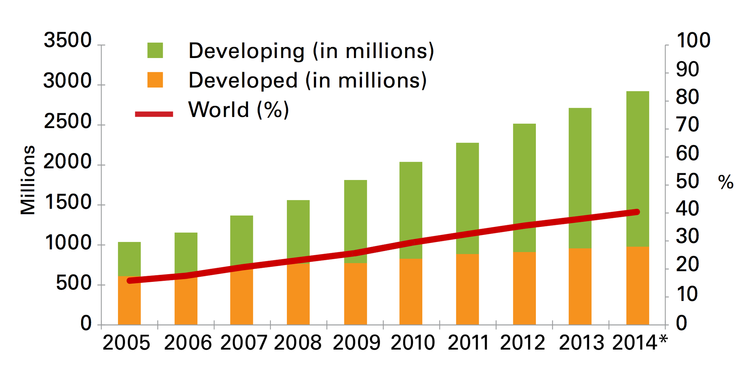 60% of the world's population without internet access. Source: http://www.latimes.com/business/technology/la-fi-tn-60-world-population-3-billion-internet-2014-20140507-story.html%5B/caption%5D

I'm not a fan of cloud-based applications. As I've noted in another review, a 2014 UN report noted that most of the world in fact has very limited access to the internet. Limited internet access needn't be a serious impediment. Much of the work we can do on computers probably does not require full-time connection with the internet. When I did research in China in the 1990s, internet access was uncommon and where it existed, it was very slow. I was only able to connect my computer to a friend's internet connection once a week and used that opportunity to access email and download necessary data. As of 2015, many countries severely monitor and restrict access to the internet so as to render it nearly useless.

Another strike against the use of online cloud tools is that many of the "free" tools are of questionable quality and may be monitoring and logging everything we do. Relying on computer-based software, dictionaries and encyclopedias is a very good way to remain "data self-sufficient"– software on our own computer is controlled by us, and can be used at any time regardless of whether or not the Internet is accessible.

I particularly appreciate that TheSage can be installed as a portable application on a USB flash drive. Install TheSage along with a full suite of portable applications and you can carry an array of applications that can be run on any computer. On many occasions while travelling, I had to write documents using a hotel computer that lacked all of the software tools that are part of my regular workflow. Thankfully, I had "Portable Apps", including TheSage, installed on a USB flash drive and was able to access all of my favourite non-cloud apps.

Interface


TheSage has a tabbed interface that can display multiple definitions and searches.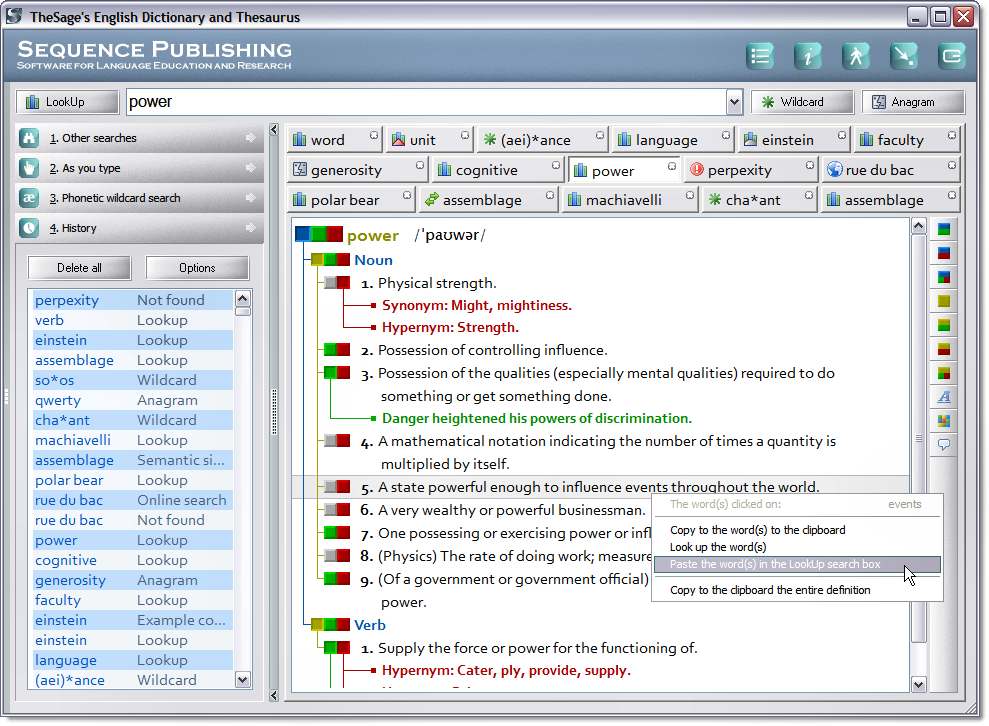 Cross-Referencing: Any of the words appearing in TheSage definition windows can be clicked allowing the user to cross-reference and explore the relationships among words.
Lookup Features: Words can be looked up using the "standard" input, or by wildcard searches.
Anagram Search: allows the searching for words or phrases that are spelt by rearranging the letters of another word or phrase
History: Maintains a history of all the words you have searched.
Online Search Tool: If you have access to the internet, TheSage's online search tool can access Wikipedia, Wiktionary, Google define, Google search and Google Translate.
Options: The interface and functionality of TheSage can be customized. The wildcard search parameters can be set, the interface font size, text colour and background colour can all be adjusted.
Word List Manager: You can create your own personal list of words for review and memorization. Look for "4. Word lists" on the navigation panel on the left. You'll find the default word list named "Favorites" but you can create your own custom categories of word lists as well. To add a word, right-click on any word in the lookup panel and then select "Add to word list".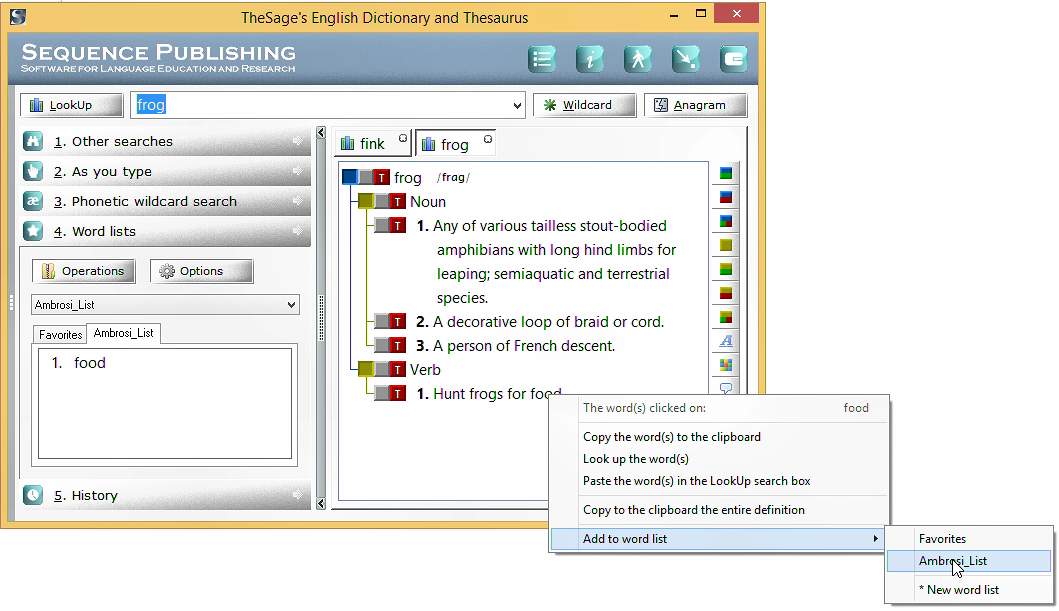 Features and Functions

TheSage includes a comprehensive dictionary with more than 201,000 detailed definitions. These words are cross-referenced to show more than 1,400,000 relationships among definitions including synonyms, antonyms, hypernyms, hyponyms, meronyms, and holonyms.
TheSage also provides many examples of word usage including geographic, historical, political, and scientific explanations of terms.
Notes on Operation
TheSage's interface is tidy, logical, intuitive and attractive. If you do not want it occupying desktop space, it can be minimized to an unobtrusive icon in the system tray.
In early January 2015, I was surprised to find TheSage using  87megs of memory– a hefty amount of memory on my Windows 8.1 system. This was far more than LibreOffice (84 megs), and substantially more than Goldendict's usage of 27megs. Technical support at Sequence Publications noted that this was excessive and asked me to check again. Indeed recently, TheSage has been consistently used only 6.3 megs- a happy fact considering that I use the program daily. In several years of use, TheSage has never frozen nor crashed.
Summary

TheSage is an invaluable tool for researchers, writers, ESL students and just about anyone curious about the definitions and relationships among English words. Tools like TheSage can help expand our lexicon and avoid falling into the rut of repeatedly relying on the same words and phrases.
The program runs flawlessly in Windows and can be both installed and run from a portable USB flash drive. A free version of TheSage is available, but the developers hope that serious users will make a donation to support the development of this excellent tool.