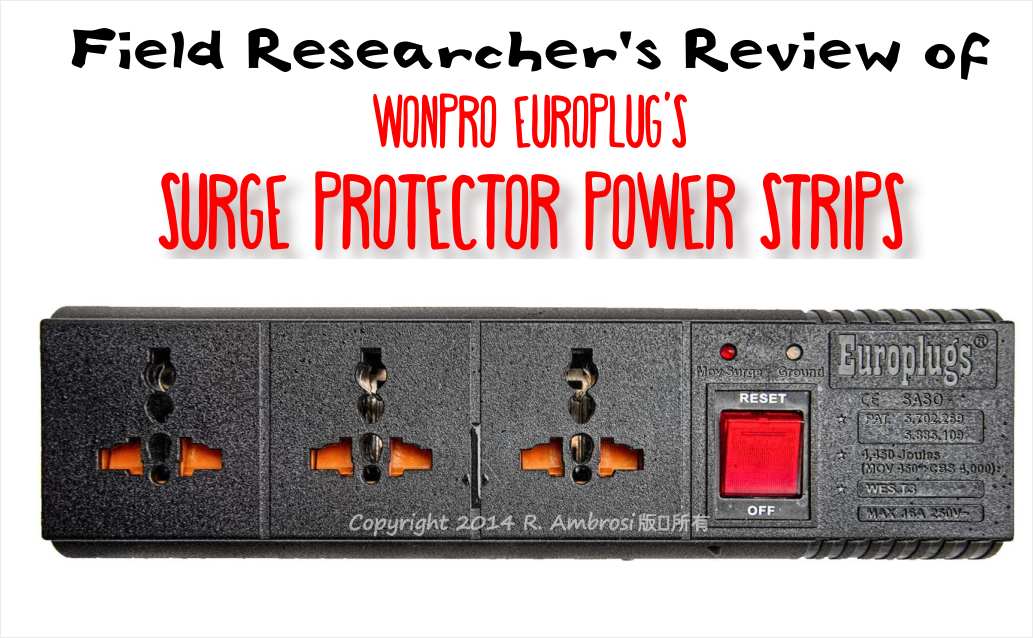 Wonpro Europlug Power Strips and Surge Protectors (in-depth review awaiting technical data from Wanpro)
The following is only a mini-review. A more in-depth review is in progress.
Keep checking back!
Have you ever opened your computer at a coffee shop, a hotel room, or at the airport only to find all of the electrical receptacles already in use? I'm willing to guess that many of us have encountered this type of frustrating inconvenience.
During field research, a lack of electrical receptacles for equipment is not just an inconvenience: it can severely diminish the effectiveness of one's research.  My solution since 2006 has been to always pack my own power strip that follows my requirement for fieldwork gear; "Less, Smaller, Simpler, Lighter"
Purchasing a no-name power strip at the local supermarket is not a viable choice if you are planning to use it in various locations worldwide. A power strip for worldwide travel must meet the following requirements or it is simply not worth buying:
Quality, robust construction to ensure long life and safety and withstand difficult travel conditions.
Accept 110v or 220v electricity.
Features universal receptacles that accept different plug styles from around the world.
Include surge protection circuitry to protect computers and electronic equipment against power surges and spikes, brownouts and other power issues. Higher joule ratings are better as these bars can withstand more intense surges. Unless clearly stated, most power bars do not include surge protection.
Compact enough to make it a worthwhile accoutrement to my travel kit.
The only power bars that I've seen that meets my above 5 requirements are manufactured by WonPro/Europlugs.
A 2000 word in-depth review is in progress. Check back soon!

Summary:
Pros:
Very durable cord
Accepts more than 20 different types of 2 prong and 3 prong plugs in common use throughout the world.
CE certification and has passed European Union electrical guidelines.
Cons:
Its larger and heavier than commonly available power strips sold in North America. But this is by design- the receptacles must be spaced apart or they cannot accommodate transformers. A 4 receptacle model is considerably longer than the commonly-available 4 receptacle models.
My conclusion:
You will have to wait until I publish the full review :)