Links to Materials 资料链接

A number of very useful tools exist for helping student become better writers.
Software programs:
GoldenDict
http://goldendict.org/download.php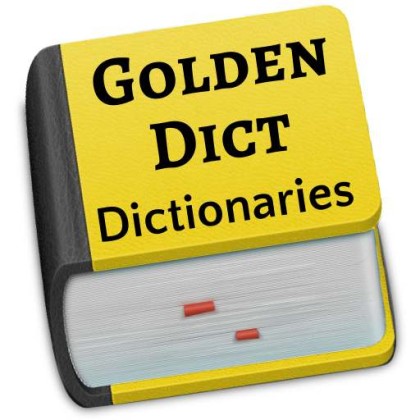 This is one of the first tools I recommend to all of my students. If English is not your native language, or even if it is, you need this dictionary! I use it almost daily myself when I am writing, translating or reading complex academic texts.
GoldenDict.exe is only the software program for managing a large number of dictionaries that you can install. You will still need to download a range of dictionaries in order to use Goldendict.
To obtain dictionaries for various languages, check out the Goldendict forums and download from the links they provide http://goldendict.org/forum/viewforum.php?f=5&sid=4840d391cb90587fec6a93101e050179
A very good Chinese-English dictionary has been compiled by Simon Wiles along with a number of other dictionaries for Goldendict including an electronic version of the Kangxi dictionary. Find Mr. Wile's page here: http://simonwiles.net/projects/
The Sage, or The Sage's English Dictionary and Thesaurus
http://www.sequencepublishing.com/thesage.html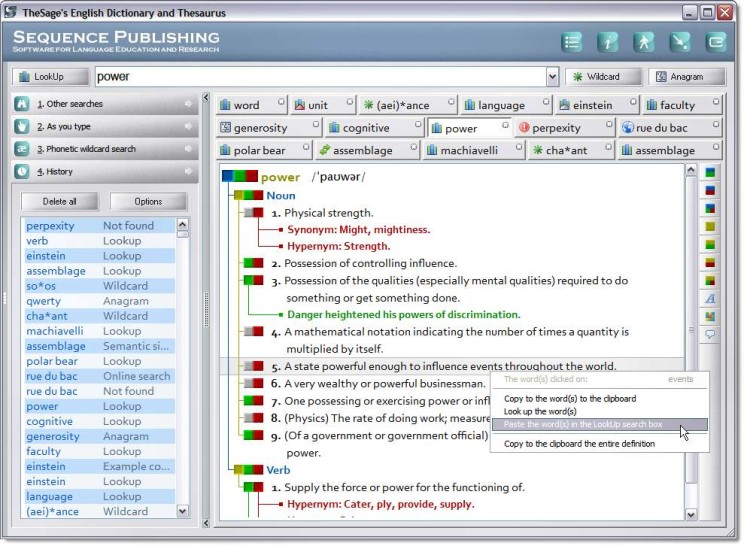 The Sage Dictionary and Thesaurus is another tool extremely useful to anyone regardless if you are a native speaker, ESL student, or an non-native speaker completing a PhD.
The author of this useful tool, Sequence Publishing, describes The Sage as a "knowledge database and a multi-tool interface" that includes:
Dictionary- a comprehensive dictionary with examples, and basic encyclopedia functions
Thesaurus- synonyms, antonyms, hypernyms, hyponyms, meronyms, holonyms
Various Tools- various look-up tools including a very useful one that allows the user to look up words when you can't remember the exact spelling.
When writing, its good to try to avoid repetition of the same term, phrase or idea. When we have difficulty thinking of an alternative word, consulting a dictionary and thesaurus can provide very good suggestions.  trouble thinking of synonyms, homonyms, antonyms.
 Videos:
This video offers useful advice on how to better prepare for and improve your score in TOEFL and SAT.
请参考以下网址的学习建议:
它将帮助你更好的准备托福和SAT。
http://v.youku.com/v_show/id_XNDgyMDI2OTg0.html
托福 TOEFL
托福听力TOEFL Listening:
SAT & ACT
SAT Reading Resources
http://chronicle.com/section/Home/5
http://www.theatlantic.com/
http://www.newrepublic.com/
http://www.wired.com/
http://www.wired.com/magazine/
http://www.economist.com/
http://www.sparknotes.com/
SAT & TOEFL Case
SAT和托福学生(UCB在校生)分享 http://v.youku.com/v_show/id_XNDgyMDI2OTg0.html
AP
GRE
News links
http://www.nbcnews.com/
http://www.nbcnews.com/nightly-news
http://www.newyorker.com/
http://www.washingtonpost.com/
http://www.time.com/time/
http://www.usnews.com/
http://www.newsweek.com/
http://www.businessweek.com/
http://www.americanthinker.com/
http://hbr.org/
http://www.boston.com/
http://www.bostonglobe.com/
http://www.thetimes.co.uk/tto/news/
http://www.ft.com/home/uk
http://www.bjreview.com.cn/
Useful Links
2015 U.S.News美国综合大学排名 American Universities Rank– Top 50
Admission Requirements
http://www.admissions.college.harvard.edu/apply/application_process/index.html
http://my.cmu.edu/portal/site/admission/adm_req/
Links to Materials 资料链接
Updated on 2015-02-05T14:12:59-06:00, by Ramb.